Some of the more basic items we include in our everyday diet include antioxidants and black pepper is one of those ingredients. The antioxidant capacity of black pepper is measured by the "oxygen radical absorbancy capacity" (ORAC value) of black pepper, a common measure used by food scientists of a food's antioxidant level and gathered by the USDA.
The ORAC value in the graph below is for 100 grams of black pepper — far more than you will ever consumein months of eating, but you can still get a sense of antioxidants in your meal plan nonetheless.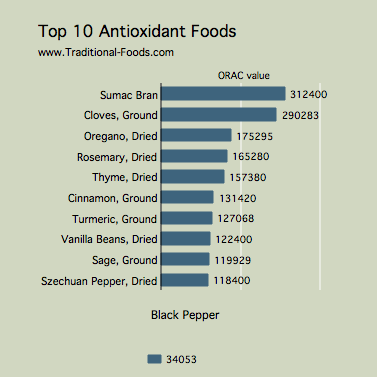 Black Pepper ORAC Value
Black pepper contains 34053 micromoles/litre of Trolox equivalents per 100 grams, the total ORAC value of black pepper.
The H-ORAC value for Black Pepper is 10205.
The L-ORAC value for Black Pepper is 23323.
The total phenolic content of black pepper is 287 mg GAE/100 g.
Read more about antioxidant foods at the Traditional Foods website.