Blackberries are a good source of antioxidants. The antioxidants in blackberries listed below is the "oxygen radical absorbancy capacity" (ORAC value) which measures the blackberry ability to fight the formation of cancerous cells. The measure is for 100 grams of blackberries (about 2/3 of a cup). The ORAC data we use here is based on the USDA's antioxidant database collected from peer review research.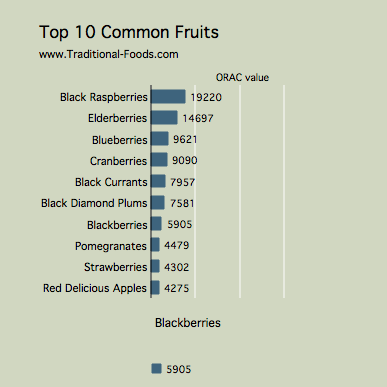 Blackberries contains 5905 micromoles/litre of Trolox equivalents per 100 grams, the total ORAC value of Blackberries.
The H-ORAC value for Blackberries is 5802.
The L-ORAC value for Blackberries is 103.
The total phenolic content of Blackberries is 477 mg GAE/100 g.
The food tested for the particular graph below can be described more specifically as:
Blackberries, raw
Read more about antioxidant foods at the Traditional Foods website.