Cloves are a dinstinctive little spice, providing key flavor to curry and chai tea and antioxidants at the same time. The antioxidants in cloves are measured by their ORAC value — the "oxygen radical absorbancy capacity," a scientific measure to rate a food's ability to fight free radical cells before they can begin to form cancerous cells in your body. The ORAC data is compiled by the USDA from scientific studies of antioxidants.
The ORAC value for cloves below is for 100 grams — more than you will consume in a month of curry, but cloves can still provide antioxidants in small amounts to your diet.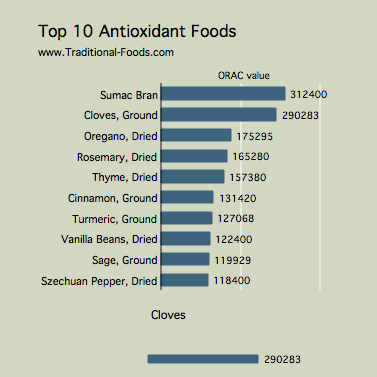 Clove ORAC Value
Cloves contains 290283 micromoles/litre of Trolox equivalents per 100 grams, the total ORAC value of cloves.
The H-ORAC value for cloves is 111490.
The L-ORAC value for cloves is 178793.
The total phenolic content of cloves is 16550 mg GAE/100 g.
The food tested for the particular graph below can be described more specifically as:
Cloves, ground
Clove Extract — Where to Buy It
Because it is difficult to consume enough clove for a health benefit, some people consume clove extract which essentially distills the goodness of clove into a very condensed portion. Clove extract is then used for culinary purposes or as a nutritional supplement. Clove extract can be difficult to find. It is easiest to buy it online. This is a good product from a reputable vendor. A problem with any extract is that there is no standardization for serving or recommended dose