Raisin, a dried version of the grape, is an excellent food source of antioxidants as is the fresh grape itself. The antioxidant value in raisin provided here is the ORAC value — the "oxygen radical absorbancy capacity" — a measure of the raisin's ability to stave off cancer-causing free radical cells. The ORAC data below is based on 100 grams of raisins — about 2/3 of a cup of raisins. The data below has been compiled by the USDA from food research on antioxidants.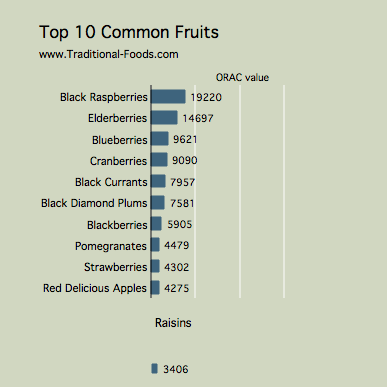 Raisins contains 3406 micromoles/litre of Trolox equivalents per 100 grams, the total ORAC value of Raisins.
The H-ORAC value for Raisins is 3371.
The L-ORAC value for Raisins is 35.
The total phenolic content of Raisins is 1065 mg GAE/100 g.
The food tested for the particular graph below can be described more specifically as:
Raisins, seedless
Read more about antioxidant foods at the Traditional Foods website.