The bran of grains tend to be high in antioxidants and sumac bran tops the list. The bran is the portion of the grain that is processed out of the grain to make ingredients like white flour. I have a love-hate relationship with bran because of its phytic acid content, a substance that inhibits mineral absorption, but if your diet is rich in minerals from other foods, bran may have something to offer in terms of other benefits. It would be great to compare the bran of different grains here but the database this information comes from is fairly limited in grains.
The ORAC value of sumac bran comes from antioxidant data compiled by the USDA. ORAC, oxygen radical absorbancy, is the most commonly used measure to date in food science that attempts to capture the ability of a food to fight free radical cells before they begin to form tumors. Sumac bran tops the list. The list below is based on the weight of each food — 100 grams of bran is about one cup, a literal mountain of bran considering it is usually just part of a list of ingredients.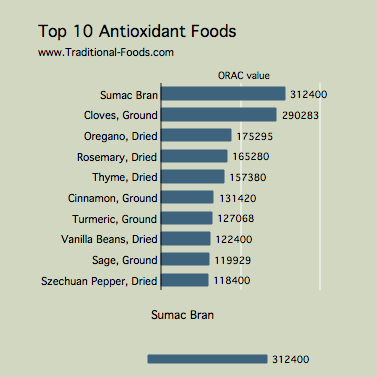 Sumac Bran contains 312400 micromoles/litre of Trolox equivalents per 100 grams, the total ORAC value of sumac bran.
The H-ORAC value for sumac bran is 309900.
The L-ORAC value for sumac bran is 2500.
The total phenolic content of sumac bran is 6600 mg GAE/100 g.
The food tested for the particular graph below can be described more specifically as:
Sumac, bran, raw
Read more about antioxidant foods at the Traditional Foods website.