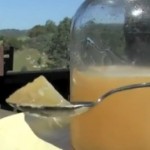 Our kitchen here in the Sequoia National Forest is HOT. It is hot with summer air and it is HOT with soups and sauces.
Mom and I are creating an online video course and we want you to take it. We could ask you line up and pull out the change in your pocket to get a peek, but we're going to keep it simple and post the entire course on Facebook for free. If you use Facebook, you just have to stretch out your index finger and "like" the page to get access. (Like Traditional Foods on Facebook now.)
Focus On The Process
This course focused on the process of soup-making, from making bone broth itself to adding vegetables and meat to your soups. You can use this information to create your own recipes with left-overs in your refrigerator or to tweak your current favorites.
Great Recipes Too
To reinforce the "how-to" portion of the course, we have a number of great recipe videos for you as well. We are pretty excited about them and discovered a really great use for some of that fat you skim off the top of your broth. In fact, we used bison fat left from stewing bison bones to make the best soup I have tasted in a while. You will discover that video in the course.
To get started, check out this amazing broth we made here just a few weeks ago detailed in the video below. We got twelve days of gelatin from the same batch of bones. Shazam!
Watch the bone broth video on YouTube (and "like" it while you're there — who wouldn't like twelve days of gelatin broth?) or watch it below.
Click "Like" On Facebook
I know that your index finger is very tired, working on the computer all day. Click through this link to our Facebook page and then just click "like." BOOM. Free video course.
Related posts:
You might also enjoy: