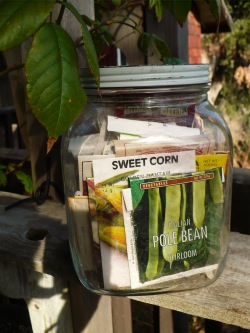 Most of us interested in food would agree on the importance of gardening. Growing your own gives you control over the plant variety and the inputs. You can purchase heirloom seeds that will likely provide you with more flavorful foods and with foods higher in nutrients. You can also use natural pest control techniques and build mineral-rich soil to create healthy plants and help them make healthy food. Of course, there is also nothing like the flavor of fresh produce, right out of your garden.
A barrier to gardening is a bit like the barrier to cooking — you actually have to know how to do it and in many of our social circles, we have lost that wisdom.
In the new gardening section on our website, my mother shares her gardening wisdom based on decades of experience with a large organic garden.
Mom grew herbs for other hippies back in the 1970s and I spent my formative years helping her mix custom herb teas and salt blends to sell at craft fairs. (To clarify, these were actually "herbs" and not *wink*wink*herbs, though you might ask her about the time her neighbor grew a prolific and likely quite profitable crop on the edge of her garden, benefiting from all of the compost drift. Passerby friends found the bounty, took a sample, and declared it "the best shit" they ever had. That is the power of an organic garden. You can grow some really good produce.)
After the herb business, mom ran a retreat house and served garden produce to retreaters, from her large garden on the property.
She has grown a heck of a lot of vegetables over the years and is a great gardening resource. To share some of this experience, mom has written a series of foundational posts on gardening covering the key components in making your garden successful:
Mom is also beginning a series on growing various specific vegetables, starting with a post on growing kale coming out of the gate this week.
These posts right now are tucked in another section of our website — the gardening section, in a separate feed. We will work on bringing these parts together a bit better, including a unified feed, but for now we are recovering from all of this writing on gardening.

Related posts:
No related posts.