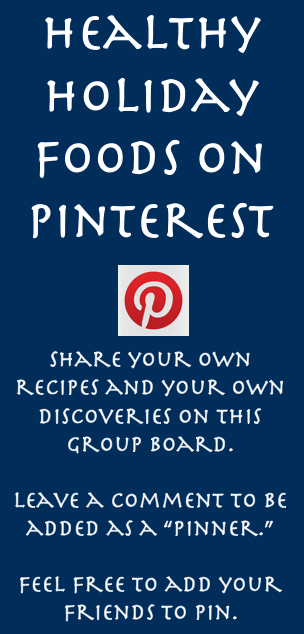 As we head into the holiday season, there may be no tool to prepare quite as fun as Pinterest. I was scouring Pinterest looking for holiday food ideas when I decided that what we really need is one jumbo board where we like-minded people can post our discoveries. I created a board just for us: Let's Share Healthy Holiday Food Ideas.
The only requirement of the board is that you pin a whole food recipe but, other than that, have at it. Post your own stuff. Post your discoveries. Shower us with coolness.
Just leave a comment on the board and I'll add you so that you can pin. Feel free to add your friends as well. (Find me on Pinterest.)
The board already has over 2,500 followers, so your discoveries should get an eyeball or two.
This post was shared at The Gathering Spot, Fat Tuesday, Slightly Indulgent Tuesday, Scratch Cookin Tuesday, Traditional Tuesdays, Make Your Own Monday, Melt in Your Mouth Monday, Allergy Free Wednesday, Works for Me Wednesday, Healthy 2Day Wednesday, Frugal Days, Sustainable Ways, Simple Lives Thursday

Related posts:
You might also enjoy: