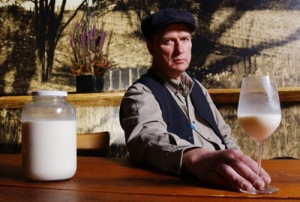 One of the most well-known and certainly most-respected dairymen in the world is on a hunger strike to bring attention to his cause — access to raw milk in Canada. Canadians cannot buy raw milk commercially — milk must be heat-treated (pasteurized) to reduce the risk of bacterial contamination despite the growing consumer market for unpasteurized milk. Michael Schmidt started his strike with his favorite food — raw milk — and transitioned to a water fast, a fast which has lasted over two weeks to date. His hunger strike was spurred by a legal ruling that overturned a 2010 acquittal. He promises that the hunger strike can end if he is given a meeting with the Ontario Premier, as described by David Gumpert
Schmidt's 2010 acquittal essentially legalized the cow share model in Canada. The herd share/cow share model allows consumers to buy a share in a herd or in a cow and gain legal access to the milk their animal produces. The farmer manages the day-to-day operations of the farm, including milking, and share owners pay for cow boarding and other fees and also gain the benefit of the milk. This model is used in the United States where it is illegal to sell raw milk, though the model itself has been challenged and is recognized legally in few places. (Colorado is a noted exception.)
Read the recent Canadian ruling that overturned the acquittal: PDF.
Schmidt is active in global raw milk politics, including assisting farmers in the United States. He holds the distinction of being the only dairy farmer on earth to entertain his customers and fans with a raw milk opera.
His cause is worthy of support.
How You Can Help Michael Schmidt
You can help Michael Schmidt in a number of ways:
Join in his fast (as a handful or two of people are doing in the U.S.)
Appeal to the Ontario Premier. There is a Facebook page providing resources for contacting him via Twitter, Facebook, mail, fax, and phone.
Donate $5 (or more, of course).
Whichever ways you choose to support Schmidt's cause, click on the link to donate and put at least $5 in the hat. Schmidt's lawyers are working not only to keep him out of jail and out milking his cows, but also working for more favorable laws in Canada.
There may be an opportunity for a donor to break Schmidt's fast with him, as Wisconsin dairyman Scott Trautman is starting to organize. Regardless, this effort needs funding and all big fundraising efforts start with $5. Trautman urged donations this morning, acknowledging the current state of the economy (and the lack of dollars in many pockets).
No matter what anyone else says or does, do it. It will work out….I have never felt more rich than when I still didn't know how the next bill was getting paid, but I gave anyway, and you know, it always works out.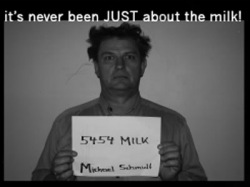 For those interested, the best places to stay apprised of the Schmidt case are The Complete Patient and The Bovine websites.
(The mug shot picture is a promotional picture from Schmidt's raw milk opera, a classic photo in raw milk politics. Let's hope we don't see him looking skeletal and in a striped jumpsuit to boot.)
This post has been shared at the Homestead Barn Hop, Weekend Gourmet, Fat Tuesday, Traditional Tuesdays
Related posts:
You might also enjoy: