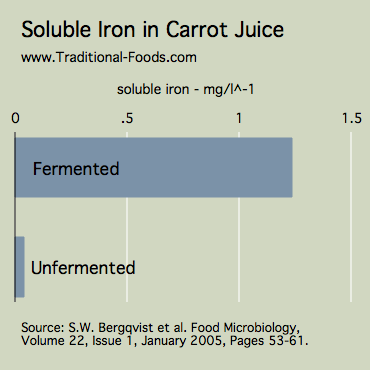 Iron deficiency is a worldwide health problem and while the government's approach is to fortify foods with small shavings of iron, traditional foods preparation offers a solution that is far more cool: ferment it.
A 2005 study of soluble iron in carrot juice found that fermenting homemade carrot juice made the iron about thirty times more available to your body to absorb.
Of course, you will fight iron deficiency faster by eating a big steak, but if you are not the steak-eating type, learn to ferment your foods. It's healthy and it's even fun.
(Read more about iron rich foods at our partner site.)
Reference
S.W. Bergqvist, A.-S. Sandberg, N.-G. Carlsson, T. Andlid, 2005. "Improved iron solubility in carrot juice fermented by homo- and hetero-fermentative lactic acid bacteria." Food Microbiology, Volume 22, Issue 1, p. 53-61.
This post was shared at Traditional Tuesdays, Fat Tuesday
Related posts:
You might also enjoy: