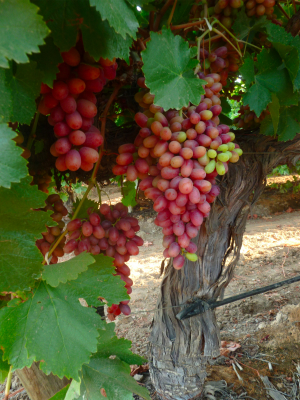 Grapes are a great addition to a Thanksgiving table — some incredible seedless varieties have been cultivated to make memorable and tasty displays. If you have purchased them or dreamed of purchasing them, you may have noticed a hefty price tag. From these pictures, you will see why they are so expensive. (The grapes at right actually come ripe before the holidays, but I thought this post needed an inspiring picture of grapes in addition to plastic and tractors.)
Grapes need to ripen on the vine and if they get rained on as they are ripening, they mold and the entire crop is ruined. Last week about ten rain drops fell on our car windshield and my mom said, "Oh no! The grapes!!" She was right to panic — most of the late grapes had not been covered to protect them from rain.
Last week while driving to preschool, my patient son allowed me to snap a few pictures of the grapes covered in plastic to protect them from rain. To my delight there was a crew working to cover about forty acres. There were probably two dozen people and two tractors at work. Each tractor held two rolls of plastic, like giant rolls of plastic wrap. They unrolled them over the grapes while other workers came behind tying them with rope about every six feet.
It's a lot of plastic and worker hours to keep those grapes from molding.
Related posts:
You might also enjoy: