Buy Whole Teff: One-Pound Quantities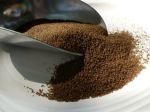 On our buying guides we typically compare different vendors and make a recommendation based on price and quality. When buying teff in small quantities, particularly when you are new to teff and just trying it out, we recommend buying locally to save on the cost of shipping. Nearly any health food store or health-oriented market will carry teff either in bulk open bins or on their shelves with other packaged grains. This will be your most affordable option.
However, if you are remote or just need to purchase a small quantity today without leaving your computer, you will find your best deals through this link. Prices do change, so we hesitate to list them, but that marketplace is the most competitive in the United States and typically offers the best deal for a one-off small purchase.
Buy Teff Flour: One-Pound Quantities
We have the recommendation for buying teff flour as for whole teff in small quantities: buy it locally if you have access. If not, check out your options here and be careful not to have a coronary over shipping costs — buy other items while you are there to help defray the cost of shipping.
Buy Bulk Teff — Brown Teff
Teff is typically purchased in small quantities by consumers, but if you are shopping for larger bulk quantities of teff, the vendor below is an excellent one. The prices are subject to change — we do try to keep them updated.
| | | |
| --- | --- | --- |
| Quantity | Price | Shipping Estimate |
| 10 lbs | $49.25 | $11.95 |
| 25 lbs | $94.15 | $22.45 |
Related posts:
You might also enjoy: