This guest post is written by Kristen Papac who attended a recent workshop led by fermentation guru Sandor Katz and sponsored by Environmental Change Makers. Thank you to Kristen for such a cool report from the field. To find a Sandor Katz event in your area, follow the calendar of events at Katz's website Wild Fermentation. To contribute a guest post, read our guidelines.
~~~
From Kristen: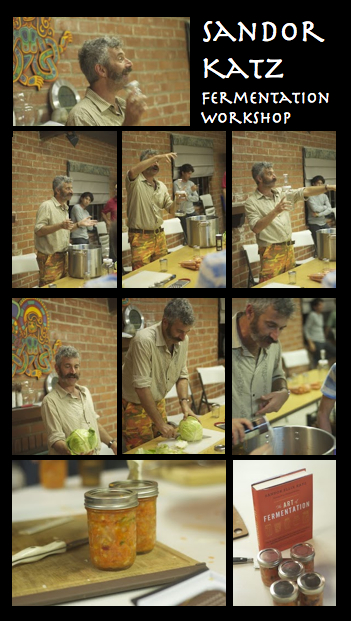 When I walked into the church for the lecture before the workshop, there he was, the high priest of Fermentos preaching from the pulpit. To hear him speak about fermentation is to hear a man who knows his subject inside and out. Beyond that, there is a joy he exudes about the subject that is palpable. We all felt it. He shared it with us all. How do I know? Everyone left with a smile on their face and a jar of SandorKraut, salted by the man himself.
The workshop was a shared community experience. I have always maintained that making sauerkraut is therapeutic because it is messy and you get to mash and bash the cabbage and other little whatnots. We all had the same ingredients: cabbage — green and purple, carrots, onions, and some little red chili peppers. Yet with the same ingredients came about 4 distinct variations on the theme of SandorKraut. There were about a dozen tables and each member chopped and shredded, mixed and massaged the kraut.
We asked many questions: What ingredients? How much salt? What containers are best?
While going into technicalities, Katz's larger philosophy emerged: Play, try new things, and ultimately find out what flavors and textures you enjoy most. Fermentation is practiced around the world in such variety that there is no absolute one right way. As he says in The Art of Fermentation (p 98): "…everything I've learned about sauerkraut and kimchi reveal that neither of them constitute homogeneous tradition. They are highly varied, from regional specialties to family traditions."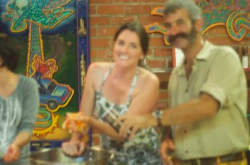 I bought the book, had Mr. Katz sign it, and got my picture taken with him. More than that, I took away the feeling of the experience: Enthusiasm, playfulness, and a willingness to try new things. Michael Pollan expresses that Katz's enthusiasm leaps off the page in his forward for Katz's new book, The Art of Fermentation (p.xi), "Sandor writes about the transformative power of fermentation with such infectious enthusiasm that he makes you want to try these things just to see what happens…Another reason Katz inspires us to try new recipes to make things you never even knew existed (kvass? shrub?!) is that he ever intimidates. To the contrary. As a cookbook … it is much more than a cookbook – The Art of Fermentation is empowering."
We came, we saw, we made kraut, and we were happy.
SandorKraut Recipe
There is no wrong or right way to do this, only a few guidelines:
Do not use stainless steal for fermenting.
Take a head of cabbage or so, peel off the outer layers, chop it anyway you like, small pieces, large pieces, grate it shred it.
Add some root vegetables, which are best washed (not peeled if organic) and shredded.
Add something else you might like for flavor: garlic, onion, chili or seaweed for example.
Add some salt to taste. This means how you like it, not what the recipe says!
Mix and mash, punch or pound until when you squeeze a handful of the mixture it acts like a wrung out sponge: liquid drips.
Stuff it in a jar or crock or any fermentation device of your choosing until the mixture is below the liquid. Add water if necessary.
Ferment it on your counter or other warm environment until you feel it is finished. If it has mold on the top, scrape it off as the stuff below the water line will still be good.
When it is done to your taste and texture preferences, put it in cold storage, i.e. your refrigerator or root cellar. Eat it and enjoy!
~~~
In the video below, Katz discusses how long to let your food ferment.
Art of Fermentation
If you cannot get to a fermentation workshop and learn from the man in person, find the book and a workshop on DVD at great prices: