Water kefir grains are a great fermentation tool that help you make fruity, probiotic drinks, cultured infusions, and probiotic fruit compotes. They are versatile, inexpensive, and easy to use. They are a great introduction to home fermentation.
How to Make Water Kefir from Water Kefir Grains
Water kefir is extremely easy to make. It can be as simple as putting water kefir grains into fruit juice until the juice is fermented, straining off the grains to reuse them, and drinking your cultured juice. Your grains will take on the color of the juice which, to me, is unsatisfying. I also do not always have juice ready for the water kefir and so I find my two-stage water kefir process best in my kitchen.
The process is simple:
Make a solution of sugar water of 1/4 cup sugar in a quart of water.
Allow the sugar to dissolve.
Add kefir grains to the sugar water. A couple of teaspoons of water kefir grains is plenty; more is fine too.
Allow the water to sit for one to two days.
Strain off the grains from the water.
Add a juice, infusion, or anything else your imagination and palate will allow, and let it sit until the mixture tastes great. It might be too sweet at first. If so, let it sit until the sugar reduces. (Some of my batches sit for a week.)
Begin the process again with your water kefir grains.
Getting Water Kefir Grains to Grow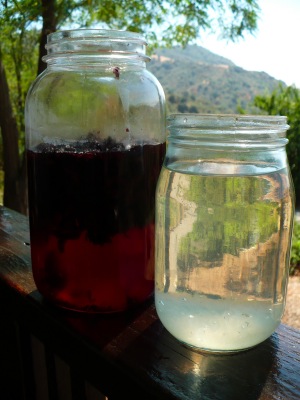 If you love water kefir and want to share it with your friends, you will want your grains to grow and reproduce so that you can give them away. It is a great way to spread the fermentation goodness among your social circle.
However, many people have trouble getting them to grow. If they are not growing, be sure to follow some water kefir grain basics:
Use sugar in your fermentation, not honey or syrup. Grains like sugar. Experiment with white sugar and unrefined sugar for best results.
Make water kefir daily. Giving the grains a new batch of sugar water tends to get them going.
Keep your grains in a warm spot, but not too warm. In the summer, your kitchen counter is probably fine. Depending on your household temperatures in the winter, find a warm spot for them. (Very hot spots such as near a wood burning stove may be too hot.)
Experiment with minerals. Julie at Cultures for Health recommends using a mineral-rich water or sugar to help grains grow.
Get your kefir grains fresh, not dehydrated. Dehydrated grains are simply less likely to grow after they are re-hydrated, though they will ferment your beverage nicely.
All that said, your grains may not grow for you. I discuss in the video at right that there are unknown factors (unknown to we consumers in any case) that are at work in our kitchens. My kitchen is a prolific producer of kefir grains even using a refined white sugar and water with virtually no mineral content. Some of us just get lucky. See the video on YouTube (water kefir grains).
Storing Water Kefir Grains
You will inevitably need a storage plan for your water kefir grains. When you go on vacation or otherwise need a break from kefir-making, simply place your water kefir grains in the refrigerator in their regular sugar water mixture. The refrigerator will slow the fermentation and they will keep nicely for a couple of weeks. At that point, ideally you would change the water and either start culturing again or put them back in the refrigerator.
It does happen to the best of us, however, that those grains sit in the refrigerator for many weeks unattended and you wonder if they will ever be the same. Take them out of the refrigerator and make a new batch of water kefir everyday for a while. Water kefir grains are extremely resilient and they will probably be just fine.
For longer term storage, some people have good luck freezing them. It might be worth it to freeze a partial batch as an experiment. If it works, you will have a back-up supply. Place them in a baggie with some sugar water, freeze, defrost later and see what you get. Alternatively, you can dehydrate them like you would dehydrate any other food — in a dehydrator like the Excalibur. Dehydrated grains do not tend to grow but I am not sure at this point about previously frozen grains. It is worthy of a kitchen experiment.
Reinvigorating Water Kefir Grains
If your water kefir grains sit too long and get funky or remain stored in your refrigerator too long, your best bet is to start using them again. If they are slimy or otherwise funky, simply rinse them before culturing again. Your beverages may not be prime for a few batches. You may actually just culture the grains in sugar water and change the sugar water each day for a few days before you bother making a water kefir beverage. Check out wisdom for troubleshooting from Cultures for Health.
Where to Buy Water Kefir Grains
In shopping for water kefir grains, you will find both dehydrated and fresh grains. Both grains will ferment your beverages well, though the dehydrated grains will need three days to one week to rehydrate and begin working for you. Once they do, you will set to make your own water kefir at home.
However, one difference to keep in mind is that grains that have been dehydrated are less likely to grow. If growing your grains so that you can give them away (or even eat them as some people do), your best bet is to find a fresh source of water kefir grains. In fact, your best bet is to find a local source so that the grains do not have to be shipped.
Shipping fresh water grains is a great option if you do not have a local source. You can find them on various websites, including eBay. Most vendors are going to ship them at the beginning of the week so you are sure to get them as soon as possible without the weekend prolonging the delivery. Be ready to culture them when you receive them to get them going again. Do not order the water kefir grains when you are going to be out of town and unable to attend to them.
Your best bet for dehydrated grains are at Cultures for Health.
Visit the Homestead Barn Hop, Frugal Friday, Fight Back Friday, Monday Mania, Mangia Mondays, Tuesdays at the Table, Traditional Tuesday, Frugal Tuesday Tip, Delectable Tuesday, Real Food Wednesday, Works for Me Wednesday, Women Living Well, Healthy 2Day Wednesday, and What's Cooking Wednesday, Turning the Table Thursday, Pennywise Platter, Simple Lives Thursday, Full Plate Thursday, and Whole Health Weekend for more interesting food topics. Find author +Amanda Rose on Google Plus and enjoy your water kefir grains!
Related posts:
No related posts.