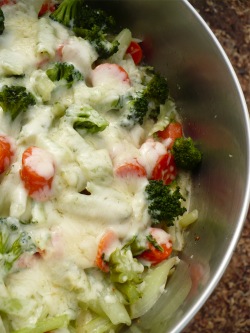 We've enjoyed this dish for well over three decades now and have not come up with a suitable name.
"What's for lunch?"
"A pan of steamed vegetables."
Everyone in the family knows what that means and will not be late to lunch.
The steamed vegetables vary depending on the season and what is over-producing in the garden. It also depends on what great deal I found at the market or what the neighboring gardener just handed me.
The Constant In Steamed Vegetables
Regardless of what is in season, the steamed veggies will be tossed in some olive oil or butter that I just used to saute several cloves of crushed garlic. If there is fresh basil in the garden, it becomes one of the seasoning stars. On a really lucky day, there are mushrooms to saute along with the garlic and basil.
Use enough oil to give your vegetables a light covering.
The vegetables covered in olive oil will now be smothered with cheese that melts down through a symphony of vegetable colors — the cheese sort of glues the whole business together. This is real cheese, not cheese spread or some other wanna-be. My inspiration for this dish came from Marie Callender's years ago. She did a fine job until someone decided to top the vegetables with some sort of a processed cheese. It wasn't long before it was off the menu.
The Secret To Efficient Steamed Vegetables
To reduce your preparation time, lay out your veggies in order of what takes the longest to cook. Start your preparation work with the longest-cooking vegetable, like carrots or winter squash cubes. Then go to the next one. It might be cauliflower. Finally, chop the quick cooking ones like zucchini or snow peas. This is an art to master. It may take a few tries before you are really satisfied.
When you get close to the end of your chopping, start cooking the vegetable that will take the longest. I like to have my pot ready with the water and the steamer in place, with heat on low and ready to rock. Turn the heat to medium and put in your first layer of vegetable. If all your vegetables are bite-sized, you can plan on about two minutes of cook time between each addition. After about two minutes, add your next vegetable. You may be able to get a little more prep time in now, but it is best not to count on much of it.
How Well-Cooked For Steamed Vegetables?
Keep in mind that the vegetables will continue to cook even after you remove them from the fire. You know what your family will eat, so judge the cook time accordingly. Some folks will eat vegetables only if they hear some crunch. Others want their vegetable soft and cooked through. You're at the helm. You make that decision. Try to catch them when they are just this side of ready, knowing they will cook a bit more in the process.
Which Vegetables To Steam?
The particular day I made the dish pictured here I did not have a pile of vegetables. I did have some vegetables that needed to be used up: a bit of broccoli from the garden, white stems of bok choy left from making another dish, and a couple of large carrots. This turned out to be a great trio. The green of the broccoli and bright orange of the carrots were perfect foil for the white bok choy stems.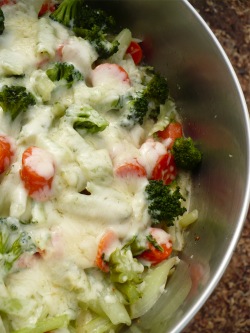 Some of our favorite cool weather candidates for this dish include:
Carrots
Turnips
Jerusalem artichokes
Fingerling potatoes
Broccoli
Cauliflower
Brussel sprouts
Green peas, shelled
Sugar snap peas
Snow peas
Winter squash cubes
Warm weather favorites:
Summer squash
Green beans
Thick-walled sweet peppers
Whole pod baby okra
New potatoes or fingerlings
Immature winter squash
Cubes of mature winter squash
Available and wonderful in almost any season:
Herbs and seasoning to vary the flavors from one cooking spree to the next:
Basil
Parsley
Dill weed
Dill seed
Lemon thyme
Lemon verbena
Lemon grass
Hot peppers
Hot pepper flakes
Cilantro
Curry powder or curry paste
Consider A Saute
Use extra virgin olive oil, butter, or a combination of the two. You might want to saute some of the vegetables besides the mushrooms and garlic. Slices of red pepper or quarters of sweet onion work well. Sauteing actually improves the flavor of both peppers and onion as compared to steaming them. Add the herb or seasoning at the beginning of the saute ritual so the flavor has a chance to develop. The saute is quick so don't start it too much ahead of your vegetables being done. The optimum strategy is to have both mixes piping hot when you combine them.
Combining The Saute And The Steamed Vegetables
If you have used a large enough pan for the saute to accommodate the saute and the steamed veggies, by all means use it. If not, gently pile the vegetables in a large pan with sides that will go into a hot oven. Sprinkle with a little sea salt and some freshly ground pepper. Keep in mind the saltiness of your cheese as you do this. Taste and adjust. Drizzle the saute over the vegetables and gently, but thoroughly, toss. You want the vegetables to be coated with your seasoned oil and butter mix.
Adding The Cheese Layer
Put on as much grated cheese as your diet and your taste dictates. If you are using the large saute pan, you can put the lid on and apply a bit of heat. The cheese will be melted within two minutes. Another alternative is to put it under a broiler for not just melting, but also a little browning. If you have an over-sized pan, pop it in a hot oven 475 degrees and you will get almost the same effect. Whichever way you go, this dish is fantastic.
Choosing Your Cheese
Vary your cheese selection until you find the family favorite. The winner may be a combination of two. Don't be afraid to experiment, but do remember that some cheeses are saltier than others. Take this into consideration in the seasoning of your dish. Consider these cheeses:
Jack
Mozzarella
Colby jack
Mild cheddar
Gouda
Swiss
Fresh cheese from a Mexican market – the kind they use for quesadillas.
Freshly grated Romano or Parmesan cheese to finish off a more delicate cheese like mozzarella or jack.
Serve Your Steamed Vegetables Sizzling Hot
We serve our steamed vegetables right out of the oven, buffet style. Everyone helps themselves and that is part of the adventure. Some will want more cheese, some less. This usually averages out if people can serve themselves. Serve with hot corn bread like Marie Callender's did back in the day or serve with crusty sourdough. Of course, sourdough is always my preference.
Leftover Steamed Vegetables
If there are leftovers they can be easily reheated. Just make it hot and fast so you don't burn the cheese and smash the veggies. Another idea is to puree the leftovers in a blender and add them to simmering chicken bone broth. Simmer them just long enough to heat up the soup. You have an almost instant lunch, a yummy one at that.
This post was shared at Traditional Tuesdays
Related posts:
You might also enjoy: