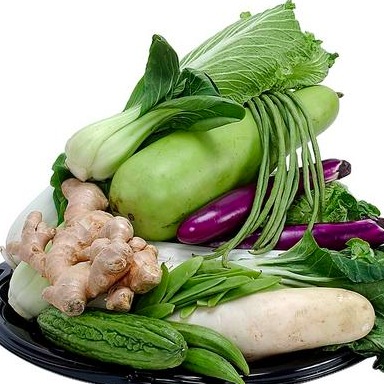 An efficient kitchen has a plan for how to wash vegetables. If your plan is working for you (whatever it is), then you should definitely keep it. If you fly by the seat of your pants in the vegetable washing department, consider mom's suggestions in this video (and her written instructions below) to reduce your kitchen time.
Mom On How To Wash Vegetables
Mom writes:In my growing up we washed produce if it had visible dirt on it. The invisible was of no consequence in our minds until we lived in Morocco as an Air Force family. Each newcomer was instructed: "Soak your produce in bleach water for at least 20 minutes." I was horrified! Why would we do such a thing? The answer: to keep from getting venereal disease. I was too young and uninformed to see the absurdity.
A half-century later I am back to soaking produce. I don't use bleach but I do like to keep around a produce cleaner from Trader Joe's. The unseen critters on our food have made the headlines and caused us all to become painfully aware of what can be lurking in our lovely produce.
So in the spirit of stopping E. coli at the gate and not taking a huge amount of time to do it, here are some suggestions:
Wash all produce when you bring it into the house. Don't put it away thinking you will wash it later. When you need that little pepper or a few of those tomatoes, you will be tempted to just give them a quick rinse.
Use all of your sinks for this purpose: the double kitchen sink and the salad-washing sink.
An alternative to filling the sinks with water and cleaner is to fill some large containers like stainless steel bowls or roasting pans, plastic dishpans, or the like.
Fill your containers (whatever they are), add the soap, and add a single type of produce to each container. Swish a little to get the soap action going.
While the produce soaks, 4 minutes or more, put away the rest of your groceries.
At the end of the soak period, gently swish for a moment, then pull out the produce and place it in a colander.
Rinse well under cold water, moving the produce around a bit for maximum rinse.
Set the colander aside to drain.
When the produce is thoroughly dry, refrigerate. If you pack it away wet you risk the possibility of premature mold and rot. (Of course, there are exceptions to the refrigerator: bananas, tomatoes, under-ripe avocados, winter squash. These do better stored at room temperature.)
Lettuce can be dried in a salad spinner or rolled in a bath towel. The lettuce will not be totally dry, but do the best you can.
This may seem like a bit of work when you are doing it, but the time savings is significant when you integrate a good vegetable washing routine. When you cook, you can dive in with perfect peace of mind that your produce is safe and ready for the work-out. Cook on, Fearless Chef!
Note: Mom makes reference to washing off pathogens such as E. coli O157:H7. Not to be a downer, but some pathogens end up in the vegetables themselves, taken up in the roots. There are no sure-fire ways to remove pathogens from vegetables, but making sure they are clean will certainly reduce your risk–and get rid of that "crunch" in your salad that you were not expecting. In any case, washing your vegetables is great.
Related posts:
No related posts.