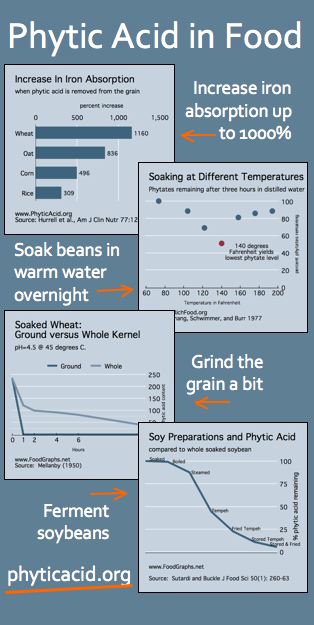 Have you heard about phytic acid in food? Perhaps you have not only heard of it, but you are obsessed by it?
Phytic acid is a common component of grains, legumes, nuts, and seeds that actually reduces your absorption of minerals. One study found that you can increase your iron absorption by over 1000% if you can remove all of the phytic acid from wheat.
Food science junkies the world over end up captivated by the topic at one point or another. My obsession may have reached a peak in 2006 when I developed an e-course around the topic. Thousands of people took the course, a course that has changed the way many people in the Traditional Foods community think about reducing phytic acid in food. A lot of the recommendations you'll find in recipes around the Internet stem from the e-course — soaking foods with complementary high phytase grains or using masa as a corn ingredient are two good examples.
Removing phytic acid from wheat is fairly straight-forward — soaking, sprouting, and fermenting it all are effective to varying degrees because an enzyme native to the wheat (phytase) is activated in the process and helps breaks down phytic acid. Other foods prove to be more problematic. I have written about some of these notable exceptions around the Internet over the years (see more information on oatmeal and soy).
How do we live with all of this phytic acid around us and all of these exceptions?
For as obsessed I have been over the years, our household has fallen into an extremely simple pattern of preparing food that saves both time in the kitchen and reduces phytic acid. It's also great to keep in mind, as you find yourself in the middle of an obsessed kitchen preparation moment, that the vast majority of us obsessed over the topic are eating mineral-rich diets and probably don't need to obsess in the first place.
I penned all of this kitchen advice into a digital paper (and even a video course) which includes science-driven recommendations on preparing food, written with the idea that flexibility and ease in the kitchen will win the long game.
The Phytic Acid White Paper includes:
44 pages
18 graphs/data displays
Easy and tasty recipes
Click here to see a sample page (PDF)
(Read all about the paper and video course here.)
Buy the paper or paper and video course today if you are a fellow food science junkie.

Related posts:
You might also enjoy: