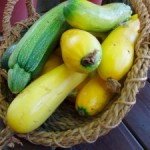 If you are going to cook from scratch on a regular basis, you will save a heap of time by chopping your produce in advance. We use one of these two approaches depending on what is going on in the household. Typically, we fall into the second.
1. The Well-Planned Week
If you have your menus and your produce on hand, this is a slam-dunk. Mince as many onions as you will need for the next several days. You can do the same with garlic and peppers, celery and carrots, swiss chard and bok choi. Package your produce in airtight containers and refrigerate them.
Tomatoes and potatoes do not fare well under this plan. The tomatoes develop a less desirable texture and the potatoes turn gray. Save them for last minute.
2. The More Casually-Planned Week
Suppose you are chopping onion, garlic, and peppers for a soup tonight. If you chopped extra of each, would you use them tomorrow? How about in scrambled eggs for breakfast? What about a salad for lunch? Today's chopping can inspire tomorrows meals. What if you added them to the scalloped potatoes you already had planned for tomorrow night? You would have much more interesting potatoes that took little extra time to prepare.
If you enjoy cooking, if you enjoy eating, you will always be inspired by ready-prepared ingredients in the refrigerator. When cooking time arrives, the meal seems almost instant.
Related posts:
No related posts.