In 2004 Richard Mokua, a Wisconsin Master's student in Food and Nutrition Sciences, studied the benefits of a traditional food of his Kenyan community, a fermented milk called "amasi." Mokua had grown up in Kenya and observed that the children who consumed amasi were less prone to diarrhea. His observation gave him an idea for a study for his Master's thesis, a study which leaves us with intriguing results
Amasi: Fermented Milk
The fermented milk that caught the attention of Mokua is called "amasi," one of dozens of types of fermented milk around the globe. In the case of Africa, fermented foods are common and, in fact, necessary for dairy products. Traditional societies had no refrigeration for their milk and typically fermented it to preserve it. Across Africa people traditionally placed their fresh milk in a gourd, added a bit of amasi from a previous batch, and then allowed the milk to ferment.
If you have made your own yogurt you may know that you can use yogurt to make more yogurt. This is essentially what has happened with amasi.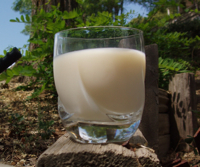 As the milk fermented and separated, the whey portion of the milk was drained off and the amasi was the curds that remained, a thick fermented beverage that would fall somewhere between yogurt and cheese in the United States. It has been eaten traditionally with grains or consumed as a beverage in African societies.
It was this beverage that Mokua thought provided protection to children against bouts of diarrhea, a recognized benefit of a high-probiotic food by the scientific community. As a young man growing up, Mokua had a keen sense of observation — the scientific community's fascination with probiotics is fairly recent.
As a graduate student in Wisconsin, Mokua speculated that the high levels of lactic acid in amasi were protecting children from illness caused by pathogenic bacteria. He speculated as well that the lactic acid would protect the milk itself. Raw milk actually has little lactic acid, but when it is cultured with a high lactic acid bacteria culture, the culture can protect against the growth of pathogens. Mokua took on E. coli presumably because of an important member of its family — E. coli 0157:H7 — the infamous bacteria that loves to lurk in our nation's hamburgers, spinach, and cookie dough. He hypothesized that amasi was such a powerful lactic acid probiotic that it could kill E. coli quickly. Mokua examined the ability of amasi to kill E. coli bacteria in partial fulfillment of his Master's degree (a study which you can find here as a PDF).
Amasi Versus Yogurt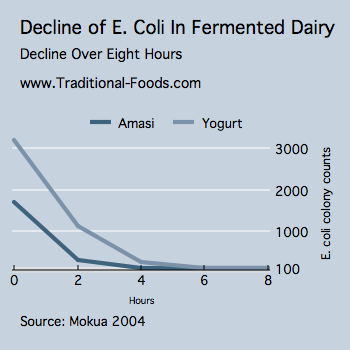 For his study, Mokua acquired an amasi culture from his hometown in Kenya. He then walked into a grocery store in Wisconsin and purchased milk and commercial yogurt. He fermented some of that Wisconsin milk as amasi and set some aside as a "control" milk in the experiment. He then inoculated the yogurt, amasi, and regular milk (plus another control item) with the E. coli bacteria.
We would not expect regular milk to kill E. coli. Raw milk does not even kill it consistently and thoroughly. However, amasi did kill the pathogen and it killed it faster than did the cultured yogurt product.
Mokua faced some difficulties in all of his measures in this under-funded study (e.g., the apparent higher inoculation rate for yogurt), but the results are fairly compelling and do fit into a larger research school of the effect of cultured dairy on the survivability of pathogens.
In this case, the primary difference between regular commercial yogurt and the amasi was the amount of lactic acid bacteria. Lactic acid bacteria, including lactobacillus, is recognized as an important probiotic in human health and amasi happens to be loaded with it.
The lactic acid bacteria in amasi helped protect the amasi itself from an assault by pathogens. It can do the same in your gut should you draw a bad card at your dinner table and consume pathogenic bacteria. Of course, as in all of life's risks, there are no guarantees. However, there are other benefits of high lactic acid foods.
Benefits of Amasi
Because of the high lactic acid content of amasi, it may have some of the recognized benefits of probiotics.
Improved absorption of vitamins and minerals.
Reduced cellular-level inflammation.
Improved digestion.
Better recovery after the use of antibiotics.
Reduced rates of diarrhea.
Improved immune response.
Many Strains Of Amasi
Across Africa, people consume "amasi," but the exact strain of the ferment varies from community to community. If you have made your own kefir you may realize that the specific kefir grains you are using have adapted over time and may even acquire some bacteria from your own kitchen, creating a unique cultured drink. This is basically what happens with amasi. Different micro-environments across Africa and different procedures for for making and storing amasi lead to different strains of amasi.
When you make kefir at home, for instance, you can save the kefir grains and part of the milk from the last batch. You can even use the same dirty jar. Some people do just that. Some people clean their jars diligently and strain off much of the milk. Some even rinse the grains themselves. These are different practices, all of which end up with "kefir," but the less diligently clean procedures encourage the growth of new bacteria, leading to more variation in dairy culture strains. It is the same with amasi. Mokua describes how some communities smoke the inside of the amasi gourd to kill off pathogenic bacteria, others rinse with wood ash, still others simply rinse the amasi gourd with hot water.
There is no one dairy culture called "amasi" for this reason. However, amasi is recognized as being loaded with beneficial strains of lactobaccillus that have not only helped traditional African people maintain their health, it has also protected their milk from the growth of harmful bacteria.
Many Names For Amasi: Beyond Organic Amasai ™ May Be The American Version
Many cultures in Africa call their fermented milk "amasi,' though in Afrikaans it is apparently "maas." In America, it is about to be called "Amasai" as Jordan Rubin's new company "Beyond Organic" launches its probiotic-rich product line and offers "Beyond Organic Amasai ™" as an important part.
Many Americans are generations past fermenting their milk in a gourd in their home. Some of us have embraced the practice once again and have counter tops full of fermenting foods. For those who are too busy or otherwise not interested in becoming a food fermenter, you still need rich probiotic foods to support your healthy. Beyond Organic may offer a solution for you.
Beyond Organic Amasai And Beneficial Fats Omega 3 And CLA
One key benefit of Beyond Organic Amasai ™ is that the cows themselves are essentially grass-fed. Beyond Organic has trademarked a term "Green-Fed" that will come with more specifics in the future, but its focus is on feeding cows a diet that they were naturally designed to consume. The cows are on pasture but will likely also receive a diet of stored alfalfa and other feed as they weather the Missouri winters.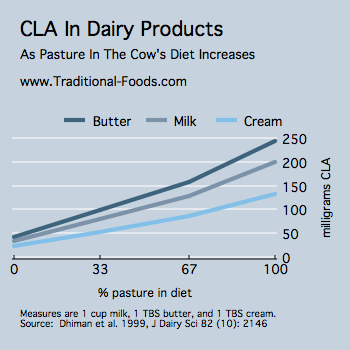 Grass fed dairy products contain higher levels of the beneficial Omega 3 fatty acids and of conjugated linoleic acid (CLA). In the graph at right note a 1999 study on the relationship between grass feeding and the CLA content of dairy products. A cow on a diet with no pasture produces some CLA — about 50 milligrams in a tablespoon of butter, a cup of milk, or a tablespoon of cream. A cow on an exclusive diet of grass will produce about 250 milligrams of CLA in one tablespoon of butter, 200 milligrams in one cup of whole milk, and just under 150 milligrams in one tablespoon of cream. As we learn more about Beyond Organic's "Green-Fed"™ standard, we will discover just where their products fall on these CLA curves.
Though the content of these fats is low compared to specific Omega 3 or CLA supplements, a key point is that these dairy products do not upset the important balance of our Omega 3 to Omega 6 intake as many common foods do. They also do contribute in small consistent ways to our intake of CLA.
As a result, Beyond Organic Amasai ™ be a powerful probiotic food, but it will also provide you with important beneficial fats.
Where To Buy Beyond Organic Amasai ™
If you are interested in learning more about the Beyond Organic products, visit their site to learn more. Beyond Organic is a direct marketing company and you must have a "referrer" to join. By clicking this link, I am your referrer. If a friend sent you to this article and wants to refer you to this company, be sure to follow their link instead. For more information on the business aspect of this direct marketing company, check out my Beyond Organic review.
Be aware, though, if you click those links both probiotic chocolate and Beyond Organic Amasai ™/amasi may be in your future.
Related posts:
No related posts.