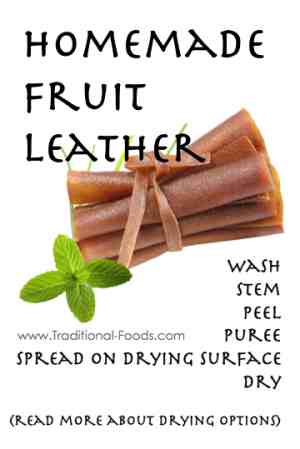 If your peaches ripen in the same week, if a generous neighbor brings you a lug of plums, or if you get a great deal on apricots at a local fruit stand, what can you do with your bounty? Fruit leather is a great option. It is quick and easy — you can process quite a bit of fruit in an afternoon.
Types of Fruit
When it comes to fruit leather, you need to use fruit that is high in sugar. Berries do not work well, but pit fruit (peaches, nectarines, plums, apricots) are perfect. If you have an unusual fruit, experiment with it and see how well you like it dried.
Apples dry best in thin slices in a commercial dehydrator. The color and texture is better than sun-dried apples. (Read our tutorial on apple chips.)
Where/How to Dry the Fruit Leather — Your Drying Surface
If you have a food dehydrator with solid drying surfaces, you may choose to use it for this project. Many dehydrators have trays with holes. Unless you have a way to cover the holes, your fruit puree will escape through the holes and make a mess.
We make fruit leather when we have large amounts of fruit to process and we do it outside because we can make epic amounts of fruit leather in one batch. You can do the same if you have a yard and sunlight. We lay out a piece of plywood across two saw horses (a large table would do too) and we cover it with plastic wrap, in strips that overlap. The leather will go directly on top of the plastic wrap so make sure it covers the plywood or table completely.
Choose a spot that gets direct sun and as little dust as possible. We have actually made fruit leather on our flat roof. It works quite well.
If you are drying outside, plan to set it out in the morning. It will crust over by the end of the day making it of little interest to bugs after that first day.
Fruit Leather Steps
Thoroughly wash and stem the fruit. Peel it if you do not like the skins.
Cut out any obviously bad spots.
Puree the fruit in a blender to a smooth consistency to help insure even drying. You do not need to add sugar — the ripe fruit has plenty.
Spread the pureed fruit on your drying surface evenly with a spatula. It should be no more than ¼ of an inch thick.
Dry on your drying surface until done. In a dehydrator, follow the company instructions on drying time — it could be 6 to 12 hours or more. Outdoors in temperatures around 100, we have had fruit leather dry in 3-4 days. However, blistering hot weather can cook your leather. It will be darker and a bit smokey in flavor.
One indicator of doneness is that the leather comes off easily from its drying surface.
Storing Fruit Leather
For fruit leather you will eat in the next week or two, store it in air-tight glass jars. If you plan to keep the fruit leather through a season, store it in a freezer container in your freezer.
Whichever way you choose to store it, it is easiest to store it in rolls, right off the drying surface. Since we make plywood-sized fruit leather, we cut it with poultry shears to a convenient width for storage. You may need to do the same depending on how you dry it and what storage containers you are using.
Using Fruit Leather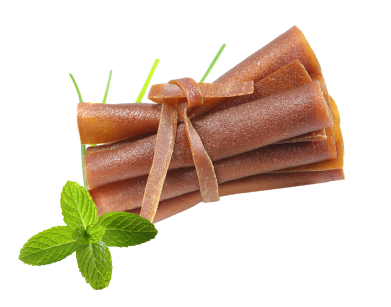 Most fruit leather gets consumed as fruit rolls. In fact, most fruit leather never makes it to the storage stage. The fruit rolls make great snacks and take-along foods.
If your fruit leather lasts longer than late summer snacks, it is great in baking, granola and trail mixes. Simply take out the needed number of fruit rolls from the freezer, place them in a plastic bag, and twist the top of the bag closed. Holding the bag tightly by the twist, hit the bag sharply against a hard surface, such as a cement step. The fruit rolls will shatter like glass and will provide you with a bounty of fruit bits.
Fruit leather works well in "fried pies." If you have been exposed to the fried pies that came to California with the Dust Bowl migration, you may know that the filling in those pies is made from dried fruit to reduce the moisture content in the pie itself.
In general, fruit leather is a great option, particularly on hot summer days when you have a mountain of sweet fruit that is ripening quickly. Fruit leather is simple to make and gives you access to dried fruit all winter long.
Related posts:
You might also enjoy: