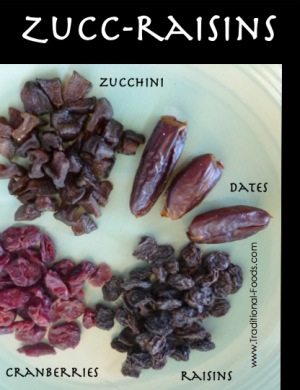 We discovered "zucc-raisins" when experimenting with "candied zucchini" — zucchini cubes cooked in a sugar syrup that we use in baked goods calling for fresh fruit. I decided to take the idea a step further and create a product that would preserve the zucchini better and could also replace dried fruit in our recipes.
Zucc-raisins were born.
Once you've been won over by the flavor and usefulness of candied zucchini, you will surely want to try drying some. The dried candied zucchini can be substituted for most dried fruits in baking and in sprinkling on top of granola. For a real treat, sprinkle some on a bowl of sweetened thick yogurt. Once you have a container of these lovelies, you will find all sorts of uses for them.
For starters follow the instructions for making candied zucchini. Use young firm zucchini, not the overgrown ones. Those big guys are mostly water and will not give you the results you are looking for.
The candied zucchini recipe will yield enough cubes to fill two trays in the dehydrator. If you have a five-tray machine then consider doubling the recipe. That's easy to do when the zucchini boom arrives.
Zucc-Raisins Ingredients
Zucc-Raisins Steps
Drain the zucchini cubes of the sugar syrup. The cubes should be refrigerated in the syrup for at least 12 hours.
Arrange the cubes on the dehydrator trays so they have lots of breathing room — place them in one layer with a wee bit of space between the cubes.
Place the trays in the dehydrator. Set the temperature for 130 degrees and the timer for 10 hours.
Start checking for doneness about the 8th hour. Drying times will vary depending on the moisture in your zucchini, moisture in the air, altitude and ambient room temperature.
Your cubes will still be somewhat soft and pliable when they are warm. After being removed from the dehydrator, the cooled cubes firm up considerably.
Store the cooled dried candied zucchini in an airtight container. I store mine in an appropriate container in the freezer. We are still experimenting with these darlings and do not know how long they will last at room temperature before beginning to lose quality.
This post was shared at GNOWFGLINS' Zucchini Round-Up.
Related posts:
You might also enjoy: