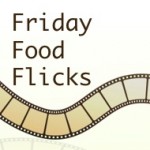 Welcome to Friday Food Flicks where, together, we will curate cool food-related photos and videos. Please share your food flicks here.
We really enjoyed all of the entries from last week, but I had to laugh out loud (shhhh) at the raspberry ceiling at the Hungry Hyena's house. Raspberry is in style both in decorating and in food. Maybe the raspberry water kefir explosion on her ceiling will look like some sort of faux art project.
Speaking of raspberries, I think I need to try these gluten-free pancakes. We love pancakes and I just get puffy like a perfect souffle when I eat gluten. This or one of the other gluten-free pancake recipes may be the answer. (I guess we all like pancakes.) Check out the recipe for coconut flour pancakes on Real Food Freaks or the recipe from Caroline at Gutsy who adds stiff egg whites for a less dense pancake.
We are in a gluten-free mode ourselves here these days with a coconut theme — coconut flour, coconut oil, and coconut milk coming down the pike tomorrow:
Share your post!
Inspire some sort of emotion in us with your flick:
"Mmmmm!:" Good food!
"Awwww!:" Cute kids, eating, cooking, or gardening!
"Ewwww!:" Industrial food!
"Oooooo!:" Great idea!
Or best yet: a big belly laugh.
If your flick is of professional quality, you might inspire a bit of envy too, but it is not required.


Give your picture a headline that inspires us to click through, read more, and even Pin It.
Rules
Post only photos and videos for which you have a copyright. Posting them gives us permission to feature them here, Facebook, or elsewhere where we will link back to your post if we feature you.
Feel free to post photos and videos from your archive, just link back.
From your flick pic, link right back to this post lest the Internet police show up at your door, flog you with wet noodles, and not feature you here.
Come back in a day or so and check out the other flicks!
Your Contribution
Share your great food-inspired photos:

Related posts:
You might also enjoy: