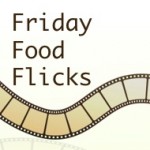 Welcome to Friday Food Flicks where, together, we will curate cool food-related photos and videos. Please share your food flicks here.
It has been such a busy week that, to my horror, I realized it was almost Friday again and, worse still, that we had posted nothing this week. I scurried to post a recipe.
As it happens, we are recovering from many days in Anaheim at the big Expo West convention. My mother is a true Expo West junkie and so we end up wearing each other out. It is a giant trade show featuring natural foods, supplements, and other coolness.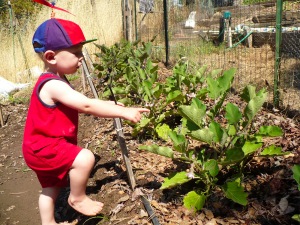 On top of that (and perhaps with the help of the dozens of energy drinks at the show), we are actually working on two new sections of the website. I mentioned the antioxidant foods section last week, but we are creating a gardening section as well. These portions of the website will all come together some day and we might even have a minute for recipes.

In the meantime, I share a gardening photo. I am sure this is the cutest toddler on the planet.
I enjoy looking at the contributions each week and try real hard to ignore the desserts since I am supposed to be dieting. Sometimes I even succeed. But how could I really ignore these desserts? LOOK at these pictures! A girl doesn't have a chance.
Now, share your post!
Inspire some sort of emotion in us with your flick:
"Mmmmm!:" Good food!
"Awwww!:" Cute kids, eating, cooking, or gardening!
"Ewwww!:" Industrial food!
"Oooooo!:" Great idea!
Or best yet: a big belly laugh.
If your flick is of professional quality, you might inspire a bit of envy too, but it is not required.


Give your picture a headline that inspires us to click through, read more, and even Pin It.
Rules
Post only photos and videos for which you have a copyright. Posting them gives us permission to feature them here, Facebook, or elsewhere where we will link back to your post if we feature you.
Feel free to post photos and videos from your archive, just link back.
From your flick pic, link right back to this post lest the Internet police show up at your door, flog you with wet noodles, and not feature you here.
Come back in a day or so and check out the other flicks!
Your Contribution
Share your great food-inspired photos:

Related posts:
You might also enjoy: