Welcome to Friday Food Flicks where, together, we will curate cool food-related photos and videos. Please share your food flicks here.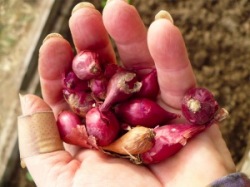 We dug our way out of last week's two feet of snow to discover, much to our delight, we still had a garden. We have three large beds covered in plastic growing garden greens and an unprotected bed filled with onions. We are sore from digging four other garden beds for the new season and we are working hard trying to get some of this knowledge into the new gardening section of our website. Check it out — mom provides a lot of foundational material on getting started with gardening. She has also started a series on growing specific vegetables, e.g., growing onions.
We enjoyed last week's entries and we managed to get some up on our Facebook page but I nearly busted a gut laughing over a post by Food Smith's General Store about using all of her beet kvass. Beet kvass is a fermented health tonic but most of us who have made it can identify with a dilemma that comes with fermenting: what do you do with all of it? It's one thing to make it and another to eat it all up. This use takes the "health" right out of "health tonic" and gives a new flavor to "gin and tonic."
Have you ever used a healthy fermented beverage as a mixer? Let's face it, it's going to turn to vinegar anyway, you might as well put it to good use. It may also help your liver with all that gin (or rum if you are mixing with a berry water kefir, not that I would know or anything). So if you're going to take it a step further and actually make a beet kvass to go with the gin, you now have a special recipe.
For more liver support, do visit the other fermentation posts from last week — kimchi from Delicious Obsessions with a variation of the recipe by Sandor Katz (and instructions for using an air lock), pickled celery at Pickle Me Too, and fermented mushrooms by Jen of Real Food Freaks who needed a solution for using two flats of mushrooms. (Don't you love those kinds of problems?)
Now, share your post!
Inspire some sort of emotion in us with your flick:
"Mmmmm!:" Good food!
"Awwww!:" Cute kids, eating, cooking, or gardening!
"Ewwww!:" Industrial food!
"Oooooo!:" Great idea!
Or best yet: a big belly laugh.
If your flick is of professional quality, you might inspire a bit of envy too, but it is not required.


Give your picture a headline that inspires us to click through, read more, and even Pin It.
Rules
Post only photos and videos for which you have a copyright. Posting them gives us permission to feature them here, Facebook, or elsewhere where we will link back to your post if we feature you.
Feel free to post photos and videos from your archive, just link back.
From your flick pic, link right back to this post lest the Internet police show up at your door, flog you with wet noodles, and not feature you here.
Come back in a day or so and check out the other flicks!
Your Contribution
Share your great food-inspired photos:

Related posts:
You might also enjoy: