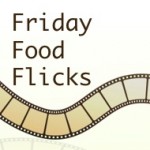 Welcome to Friday Food Flicks where, together, we will curate cool food-related photos and videos. Please share your food flicks here.
We have been scurrying behind the scenes on this website developing a tool for readers on antioxidant foods. Antioxidants help prevent cancer and they slow the effects of aging. You do not have to be too far out of your twenties before appreciating that powerful combination. Those of us here at Traditional Foods are well beyond that point and definitely interested in the benefits of antioxidant foods and so we developed this tool for ourselves and are sharing it on this site as well. The antioxidant area of the site in still in development, but we have information on upwards of 150 foods for you to explore if you are so inclined. For example, check out the antioxidants in blueberries or a page in development on the antioxidants in vegetables. We plan articles as well on related topics to help us all make the right food choices for ourselves.
That said, jumping out at me from last week's flicks are three antioxidant-rich recipes: An beet, apple, and carrot salad, smoked chipotle peppers, and a kale salad. One entry for Jerusalem artichokes made me put that on my antioxidant research list — this is an obscure food with a lot of potential. You can learn all about it in that in-depth post from Lil' Suburban Homestead.
Now, share your post!
Inspire some sort of emotion in us with your flick:
"Mmmmm!:" Good food!
"Awwww!:" Cute kids, eating, cooking, or gardening!
"Ewwww!:" Industrial food!
"Oooooo!:" Great idea!
Or best yet: a big belly laugh.
If your flick is of professional quality, you might inspire a bit of envy too, but it is not required.


Give your picture a headline that inspires us to click through, read more, and even Pin It.
Rules
Post only photos and videos for which you have a copyright. Posting them gives us permission to feature them here, Facebook, or elsewhere where we will link back to your post if we feature you.
Feel free to post photos and videos from your archive, just link back.
From your flick pic, link right back to this post lest the Internet police show up at your door, flog you with wet noodles, and not feature you here.
Come back in a day or so and check out the other flicks!
Your Contribution
Share your great food-inspired photos:

Related posts:
You might also enjoy: