Welcome to Friday Food Flicks! Together, we will curate cool food-related photos and videos. Please share your food flicks here.
We've been enjoying our opportunity to take pictures in our area, with incredible green hills and wild flowers. On one of our ventures, we grabbed some shots of these clementine trees and thought you'd find them interesting. Clementines are the small seedless and easy-peel tangerines that have become very popular in the last few years. They get draped with these nets every season and it is something to see.
There are acres upon acres of trees draped in net, usually white but sometimes an ominous black. (Black net in your orchard looks normal. Black net on a hundred acres looks ominous.)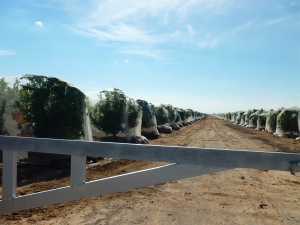 Check out the expanse of these operations. The money just in the netting but then in the extreme time to get it on these trees is mind-boggling.
A citrus friend tells me that the nets keep the trees from cross-pollinating. In the citrus belt, these clementines could cross with another citrus and end up with seeds, dramatically lowering its market value.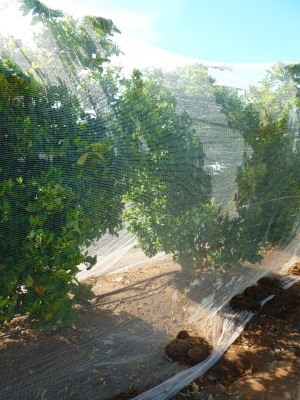 They keep the netting in large spools at the end of each row and roll it across when the fruit is in blossom. The netting is weighted at the bottom by soil from the row. Walking up close to them, you could see bees buzzing around inside the netting. It's pretty cool if you ever have a chance to take a look. You may never complain about netting a few fruit trees in your yard again.
Last Week's Entries: Maternal Diet
Thank you again for participating last week. Among the food entries, Kendahl from Our Nourishing Roots posted about her son's cleft palate and the care and nourishment she is showering on her son and reports on his progress and his enjoyment of real food. She wonders out loud in the post if her son's condition was partly due to her diet, knowing well the connection between maternal nutritional and, well, just about everything when it comes to producing babies. In fact, the relationship is so well established and the role of maternal nutrition so important in the real food movement, that it is common to face judgment from the community, or at least to feel judged.
I get a bee in my bonnet over this very issue because there are so many factors that affect birth defects — a good diet is simply going to help us get dealt a better hand in the game. In the spring of 2009 when we were running around with my infant son getting therapy for his bilateral club foot, an article was published linking higher rates of birth defects to seasons of the year with higher pesticide concentrations in the environment. It's an interesting article — if you conceive during a season with higher environmental toxins, your baby is more likely to have a birth defect. A good diet will help mitigate the effects of pesticide exposure but the sad fact is that we get exposed to piles of crap out there and that exposure is affecting the cards that we are dealt in pregnancy. Our children are being affected and Kendahl's approach is critical for all families, with or without clefts or curled feet.
(Here are a few articles from the Rebuild Blog from back in the day with my son: Love, Care, and Nourishment, Baby Misery, and the big Postpartum Depression Survival story).
Now back to our regularly scheduled recipes and garden photos. Share your post!
Inspire some sort of emotion in us with your flick:
"Mmmmm!:" Good food!
"Awwww!:" Cute kids, eating, cooking, or gardening!
"Ewwww!:" Industrial food!
"Oooooo!:" Great idea!
Or best yet: a big belly laugh.
If your flick is of professional quality, you might inspire a bit of envy too, but it is not required.


Give your picture a headline that inspires us to click through, read more, and even Pin It.
Rules
Post only photos and videos for which you have a copyright. Posting them gives us permission to feature them here, Facebook, or elsewhere where we will link back to your post if we feature you.
Feel free to post photos and videos from your archive, just link back.
From your flick pic, link right back to this post lest the Internet police show up at your door, flog you with wet noodles, and not feature you here.
Come back in a day or so and check out the other flicks!
Your Contribution
Share your great food-inspired photos:

Related posts:
You might also enjoy: