Welcome to Friday Food Flicks from the Traditional Foods site in the Sequoia National Forest of California. Don't let the "forest" part fool you too much. This week our county is known for this week's big "mad cow" disease news. There is not much to do about it right now but make jokes. I posted one joke on Facebook which immediately inspired some "unlikes":
Our postmaster: "Did you hear that the MAD COW is right here in Tulare County? … That's why I eat at McDonald's."
Me: "Wy would you eat there??!!?!"
Postmaster: "McDonald's doesn't sell beef."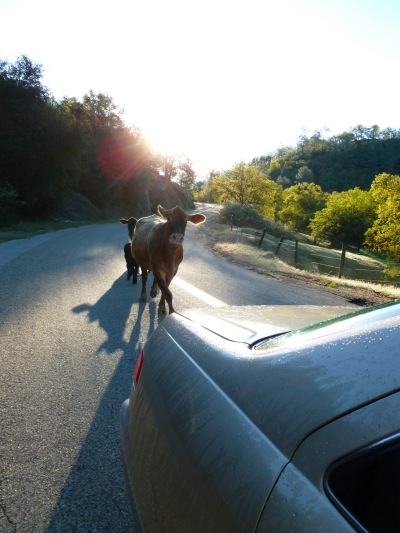 We are not to worry about to spread of this disease that was discovered by a random check of downed cows. With tuberculosis, they test when cows are symptomatic. When they have to use a random number generator to find SE/mad cow, I get a bit concerned…
I'll leave you with an image of what I hope is a healthy cow a few miles from here trying to hitch a ride with us.
Back to our regularly scheduled recipes and garden photos. Share your post!
Inspire some sort of emotion in us with your flick:
"Mmmmm!:" Good food!
"Awwww!:" Cute kids, eating, cooking, or gardening!
"Ewwww!:" Industrial food!
"Oooooo!:" Great idea!
Or best yet: a big belly laugh.
If your flick is of professional quality, you might inspire a bit of envy too, but it is not required.


Give your picture a headline that inspires us to click through, read more, and even Pin It.
Rules
Post only photos and videos for which you have a copyright. Posting them gives us permission to feature them here, Facebook, or elsewhere where we will link back to your post if we feature you.
Feel free to post photos and videos from your archive, just link back.
From your flick pic, link right back to this post lest the Internet police show up at your door, flog you with wet noodles, and not feature you here.
Come back in a day or so and check out the other flicks!
Your Contribution
Share your great food-inspired photos:

Related posts:
You might also enjoy: