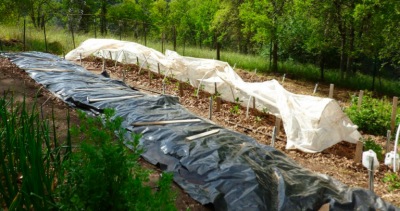 Welcome to another Friday and another photo-inspired link up. Somehow it got to be Memorial Day weekend and, apparently, the summer is about to begin. Our summer garden is planted and thriving, thanks largely to various greenhouse structures that have allowed us to extend the summer season. It's a good thing too because night time temperatures here are still dipping into the 30s.
If you follow the recipes on this website, you may have noticed that we are all about garden produce these days, with a special focus on greens and beets of late since we are eating mountains of them. I'm featuring this week other produce fanatics, including Halle at Whole Lifestyle Nutrition who shared a gardening tip that is so basic that it may never actually occur to you — harvest your crops along the way. There is no need to wait for a plant to reach full maturity — pick leaves and fruit off as you go along. This tip obviously works better for some produce but, in general, if something is ripe and you are cooking, go get it.
We've been picking wild greens and elder flowers, so I also had to appreciate the jellies from Moss Grown Stone. Pictured are violet, dandelion, and apple blossom jelly. Awesome!
As a little hat tip to Heba at MidEats and to my mother, who both appear to be bananas over both zaatar and pomegranate molasses, do check out Heba's recipe for roast chicken that uses these ingredients.
Now, share your post!
Inspire some sort of emotion in us with your flick:
"Mmmmm!:" Good food!
"Awwww!:" Cute kids, eating, cooking, or gardening!
"Ewwww!:" Industrial food!
"Oooooo!:" Great idea!
Or best yet: a big belly laugh.
If your flick is of professional quality, you might inspire a bit of envy too, but it is not required.


Give your picture a headline that inspires us to click through, read more, and even Pin It.
Rules
Post only photos and videos for which you have a copyright. Posting them gives us permission to feature them here, Facebook, or elsewhere where we will link back to your post if we feature you.
Feel free to post photos and videos from your archive, just link back.
From your flick pic, link right back to this post lest the Internet police show up at your door, flog you with wet noodles, and not feature you here.
Come back in a day or so and check out the other flicks!
Your Contribution
Share your great food-inspired photos:

Related posts:
You might also enjoy: