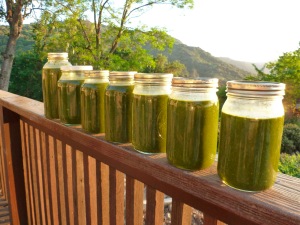 Happy Friday to everyone and welcome to another Friday Food Flicks, from right in the furnace of the entire universe. I actually traveled to town today and lost about ten pounds melting. Of course, I gained at least eleven back immediately with ice cream.
Despite the heat, my mom and I continue our daily green soup regimen. She just posted another recipe variant. I love that she posted the two-gallon size. I know everyone is going to run out, spend $100 on greens, and make two gallons in their hot summer kitchens. (Mornings are a good time both to eat it and make it if you would like to join in our madness.)
Looking at last week's recipes, I MUST post France's roasted marrow recipe (meat lovers only). We love marrow bones around here. The marrow is actually loaded with iron and it is decadent if you eat meat. If you don't, you've probably run out scared but in the spirit of equal time, you must also check out Marilyn's breakfast cereal made with chick peas. It's made like chick pea snack-like recipes where you cook, dry, and then season the bean, but it's sweetened and you eat it like cereal. (!) There is a great deal of photo evidence on the post that at least two cute girls like it.
Now, share your post!
Inspire some sort of emotion in us with your flick:
"Mmmmm!:" Good food!
"Awwww!:" Cute kids, eating, cooking, or gardening!
"Ewwww!:" Industrial food!
"Oooooo!:" Great idea!
Or best yet: a big belly laugh.
If your flick is of professional quality, you might inspire a bit of envy too, but it is not required.


Give your picture a headline that inspires us to click through, read more, and even Pin It.
Rules
Post only photos and videos for which you have a copyright. Posting them gives us permission to feature them here, Facebook, or elsewhere where we will link back to your post if we feature you.
Feel free to post photos and videos from your archive, just link back.
From your flick pic, link right back to this post lest the Internet police show up at your door, flog you with wet noodles, and not feature you here.
Come back in a day or so and check out the other flicks!
Your Contribution
Share your great food-inspired photos:

Related posts:
You might also enjoy: