Find a list of super foods and you will see kale. If you want kale in your diet to be a super, super food, then grow your own. The kale you purchase in the grocery is loaded with nutrients, but it could be loaded with residues of undesirable substances as well. Grow your own kale in finished compost, fed with manure tea and/or fish emulsion. This is the only way you can be certain that your kale is organic, free of pesticides and chemical fertilizers. Even if you have no garden space, you can probably find a spot for a 3-5 gallon container for growing kale.
Growing Kale – A Cool Season Crop
Kale is a biennial, meaning that it will live through two seasons. However, the most edible stage of kale occurs in cool weather and it is best after the first frost. The kale leaves of summer will be bitter and tough. A good frost brings up the sugar in kale.

Plan on getting kale into the garden as early in the spring as possible for a spring harvest. You can harvest again in the fall and possibly through the winter, depending on where you live. In that second spring you will continue to harvest until the plant insists on flowering. The flavor declines when the plant goes into the flower stage.
Even if you pass on the summer harvest, you will get three to four harvests from your kale planting. You would be hard-pressed to get this kind of bounty from any other vegetable.
Choosing Varieties Of Kale To Grow
Before deciding what variety or varieties to plant, taste as many kale varieties as you can get your hands on. Each variety has its signature flavor and color. You may decide to plant several varieties. For this you will need to order seed.
Buying Kale Seed For Your Garden
For the first time in my gardening experience I found a packet of Siberian Kale seed on a rack in a health food store. Do not count on finding some over-the-counter kale seed. Do not look for kale seedlings at your nursery. I predict this day will come, but it has not come yet. Shop the catalogs and find just what you want for your garden. I like to order by January. Remember, kale is a cool weather lover so get those seeds started as soon as possible.
If you are just getting started and want to give kale a run, you can find some cool kale on Amazon. We love this variety in salads and sandwiches, though this is a great kale too.
Kale – A Heavy Feeder
Like most vegetables, kale enjoys rich soil. Work plenty of finished compost into the soil before planting. In my experience, there is no such thing as too much compost. Just make sure it is finished and sweet-smelling, like soil.
If you are planting in a container, use at least half sweet-smelling, finished compost combined with a planting mix. I like filling a container to within 5 inches of the top with compost and then finishing with a layer of potting mix. The compost feeds the plant. The planting mix mulches against weed growth that is inevitable with compost. A perfect combination!
About once a month side-dress the kale area with fish emulsion or compost tea. Plenty of good food keeps the kale growing quickly. This ensures tenderness and good flavor in the kale leaves.
Kale Moisture Requirements
Even before planting, check the drainage of your proposed kale bed. Drainage needs to be good. Kale thrives on consistent moisture, but it does not thrive in standing water. Assuming your drainage is good, just provide for regular watering. An automatic watering system is a God-send with any garden.
Kale Planting Instructions
Start your seed indoors or in a greenhouse about six weeks before the last expected heavy frost. Kale seed will germinate in cold or warm conditions, making the germination easier to accomplish. Once the seeds sprout, give them as much light as possible. Move them to the front of the greenhouse or to your sunniest window sill. Turn the plants often to keep them growing as straight as possible.
Set out your kale seedlings into a prepared bed just after the last expected heavy frost. Kale plants should be twelve to eighteen inches apart. The plants will look awfully lonesome at first, but will grow and fill in soon. If you plant in rows, the rows should be eighteen inches apart. Just be patient. It will fill in and look like a garden very quickly.
Provide regular moisture, either by hand watering or with an automatic watering system. A lack of moisture will cause the kale leaves to turn bitter and tough.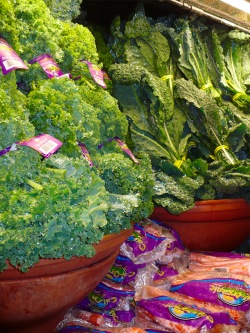 If you do companion planting, consider these companions for your kale: beets, celery, lettuce, onions, potatoes and strawberries. Notice that these companions spread and provide shade for the soil, helping to keep the soil cool. Kale likes cool soil. Another way to keep the soil cool is to apply a heavy mulch like shredded leaves. You kale will thank you with a tastier, more tender crop.
Feed your kale monthly with fish emulsion or compost tea.
Begin harvesting kale leaves about sixty days from the seed planting. To harvest, take a leaf or two from each kale plant. Watch this video for clear information on harvesting cut and come-again greens like kale. Like any produce, kale is best when first harvested. Pick as you need it. Your kale is better off in the garden than it is in the refrigerator.
When the day comes that your kale begins to throw flower stalks, cut them back. This practice usually adds a couple more weeks to your harvest time. The stalks are edible. Use them in salads or stir-fries.