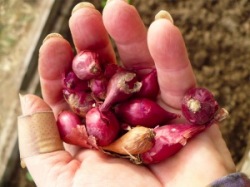 Why would you bother growing onions at all? Onions are available year-round and their price is not exorbitant. There are a few excellent reasons to consider growing your very own onions.
You can grow them organically, under the very best conditions, and be assured of high quality onions.
Onions are a fine source of antioxidants. Hence, you want to get as many high-quality onions into your meals as possible.
You can over-plant onions early in the season. Thin the onions as you need them in your kitchen. Between your early season thinnings and your post-season stored onions, you could be consuming your home-grown organic onions year round.
From a kitchen-gourmet point of view, you could be growing sizes, shapes and colors of onions never found in the grocery store. How fun is that!
Considerations for Growing Onions
Onions will grow in a variety of soils but still need good drainage.
If you know your soil is acid, add a little lime.
Do not use a heavy application of manure. Manure is high in nitrogen which will cause heavy top growth in your onions, but small bulbs.
There are short day onions and long day onions. The Southern states fall in the short day category. Onions in this category grow in late fall into early summer. The Northern states have long days. Onion crops in the long day states grow from early spring into early fall. You need to select onions that fit your category in order to get the sized bulbs you are looking for.
To get full-sized sweet onions, you must provide for consistent moisture. Figure this into your garden plan.
Onion plants do not shade out weeds, so plan to do some hand weeding. A mulch of shredded leaves or dry grass clippings can help a bunch in holding down the weed population.
Onions can be grown from seed, seedlings, or sets.
Growing Onions from Sets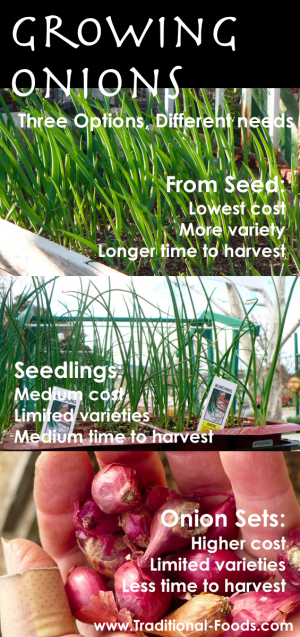 An onion set is a small bulb. Basically, it is the immature onion bulb someone else has grown from seed. Sets are available in your area at the beginning of planting season — generally this is November in the south, March in the north. Sets are the easiest way to bring in an onion crop. Some argue that onions grown from seed produce bigger bulbs than those grown from sets. After watching friends and family pull monster onions from rows that were planted with sets, I am not convinced.
Varieties of Sets
Sets are commonly available for red, white and yellow onions. If you want something more unusual, you could probably search online and find something to tickle your fancy. When sets arrive at your local nursery, you can be pretty certain it is time to plant. Don't buy a bag of sets to hold for a month or two. They will dry out and be useless.
Planting the Sets
Plant the sets about four inches apart in a prepared bed. Examine the set. Notice that the wider end shows signs of where the roots had been. The more pointed top end is where the green shoot will appear. Using some tool (I use a screwdriver), push a little hole in the ground. Push the set into the hole with the root end down. The set should be just below the soil surface.
For a bit more reading on onion sets, check this post from GardenofEaden. You will want to bookmark this website — there is lots of great information on gardening.
Mulching the Onions
After all the sets are planted, cover the bed with shredded leaves about a half inch thick to control weeds. You will still need to hand pull some pesky weeds. Weeds can easily overpower onions and suck up the precious nutrients. As the bulbs begin to form on the onions, pull the mulch back so the bulbs are not covered. Mulch can harbor critters that would love to chew on your onion bulbs. Read more about mulching on our website.
Growing Onions From Seedlings
This option may or may not be available to you. In this region there are some nurseries and feed stores that carry bundles of onion seedlings in the same time frame as the onion sets. The seedlings are about the size of pine needles, but with hair roots on the ends. Plant the seedlings following the same general principles as for onion sets: four inches apart, roots down, green up. Applying mulch requires a bit of care. Do not bury the fine green shoots. With the sets you can just dump the mulch on and the shoots come through it. No so here.
Check out this charming video by the Garden Guru on planting seedlings. planting from seedlings
There is always some new to learn, especially from experienced gardeners like him.
Growing Onions From Seed
If you are looking for a cornucopia of onion varieties in your garden, seeds are the only way to go. For a long day garden, spend January drooling over seed catalogs until you have found all you want, then order. Don't wait. You have to start early if you are going to grow from seed. For a short day garden, do the same thing, but in August.
Since onions can take as long as three weeks to germinate and because they come up as fine as thread, I suggest you start your seeds in flats, either indoors or in a greenhouse. The most valuable information I can give you is to plant in a soil-free mix, a special seed-starting mix. To fudge on this will bring disaster. Onion seedlings are very susceptible to damping-off (dying). The soil-free planting mix does not have the organisms that bring on the damping-off problem.
Two other reasons for starting onion seed in flats are birds and weeds. Once the local birdies find your onion shoots, those shoots are history. If you do manage to protect the seedlings from the birds, the weeds could totally smother them.
Your onion seedlings can be left in the growing flat until you are ready to plant in the garden. With every other watering, use a half-strength liquid fertilizer on your seedlings. Fish emulsion works well. (Anything that smells that badly should work well!)
For more information on starting onion from seed, read this article from Vegetable Grower Magazine and you will be an instant expert on growing onions from seed.
Tending the Onion Bed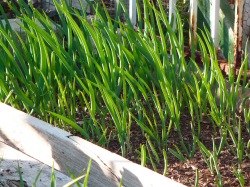 You have good soil. Boost it a bit with a side-dressing of finished compost about once a month. A very light sprinkling of well-rotted manure is also good.
Add to the mulch if it gets thin.
Have no mercy on the weeds.
Clip off any flower heads that should form. The flowers take strength away from the bulbs. If you plan to save onion seed, you do not want seed from an onion that goes to flower early.
Keep the bed consistently moist until the onion tops fall over and begin to yellow a bit. Then stop watering.
A watering exception: any onions you have allowed to flower for seed should continue to have some water. Tend those onions until the flower heads are dry and the little black seeds become visible. Stake the flower stalk if you have to to keep it out of the garden soil.
Harvesting Onions
Allow the onions to sit undisturbed for a week after you stop watering.
When the onions are ready, use a garden fork and carefully lift the onions from the bed. Use caution not to bruise the onion bulbs. Bruised onions do not keep. Any onions that do get bruised or nicked can be used in the next couple of weeks in the kitchen.
Spread the onions in a dry, shaded place to cure for a couple of weeks. Keep an eye on the harvest. If any onions show signs of deterioration, pull them from the line-up. Cook with them now, minus the bad spots, of course.
Use the onion tops for braiding if you plan to hang the onions for storage. If not, cut the tops off to within two inches of the onion bulb. To cut any closer to the bulb is to risk rot developing in the heart of the onion.
Onions should be checked regularly during the storage period. Remove any bad onions before the rot spreads to its neighbors.