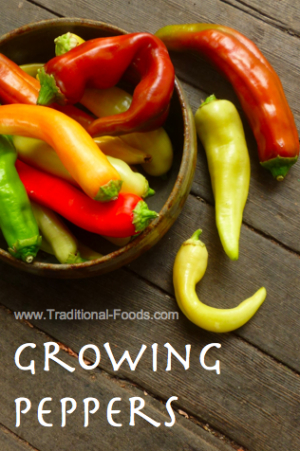 Growing your own peppers not only gives you the opportunity to have organic peppers, but it offers the opportunity to grow pepper varieties you will not find at the grocery and that you may not find in a farmers market. Some pepper varieties shine when eaten raw, others when fried or roasted. Grow your own peppers and you can have it all.
Like tomatoes, peppers are a warm season crop. Peppers are very similar to tomatoes in the way they are planted and grown. They are generally easy to grow and you should be successful on your very first round. Here is some information to get you started growing peppers.
Pepper Varieties
Peppers break down into hot peppers and sweet peppers. Within each of those two categories are scores of different varieties.

Sweet Peppers
Believe it or not, there are more sweet peppers besides the common bell peppers. After you have explored the range of sweet peppers, bell peppers will seem boring. Take the sweet banana pepper for instance. Slice it fresh into a salad. The texture is crunchy and the flavor is rich and bright. Try making your favorite pasta sauce with sauteed sweet Italian peppers and you will want to never be without sweet Italians again. The pimento pepper is a long-season pepper that produces thick-walled rich red goodness. Strips of roasted fresh pimento pepper served in a salad make you want to cry that you did not plant more. Check out this chart for descriptions of some of the less marketed sweet peppers.
I wrote a more in-depth discussion of sweet peppers, describing flavors and variety on our sweet peppers resource.
Hot Peppers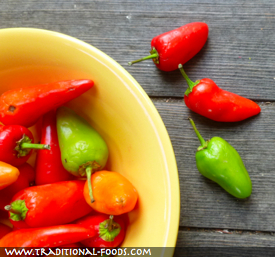 A passion for hot peppers has swept the country and along with it, a passion for growing hot peppers. If you are new to scene, you must get some understanding of the broad spectrum of heat in different hot peppers. They range from mildly hot like the Fresno chili to firecracker hot like a Thai chili. Look over the Scoville chart on pepper heat to see how extremely broad this heat spectrum is. Decide which hot peppers are right for you.
Hot peppers vary in size and shape. You can find large ones to stuff with cheese and turn them into chili rellanos. You will also find hot peppers that are slender and no more than an inch long. Some of the hot peppers are picked green, like the jalapeno, but will turn red or dark orange when fully ripe. Hot peppers reach their full heat and flavor when they grow past the green stage. Check this chart for a description of some of the hot peppers.
Every hot pepper fanatic has at least one hot pepper book. Here is one book you will enjoy as a gardener.
For more information on pepper varieties, try this species guide and seed exchange link.
Have fun! This is rather like a treasure hunt.
When To Plant Peppers
If you are starting your own pepper seeds, it takes about 8 weeks from the sowing of the seed to putting the seedlings in the ground. For most locations, you need to start your seeds indoors or in a greenhouse in January or February. Counting backwards, you need to order your seeds by December.
If you are buying pepper seedlings, they go in the garden when the night temperatures stay above 50 degrees and there is no danger of frost. To stretch the season, warm up the soil by covering the bed with 6mil black plastic for a few weeks before planting the seedlings and then rig a way to stretch a floating row cover over the bed for a few weeks. This could buy you as much as a month of extra grow time, maybe more. Often I buy a few pepper seedlings available in the valley below us. The valley is warm enough for planting outdoors. We are not, at least not for a month. I keep the seedlings in a greenhouse situation, watering them with diluted fertilizer and repotting them if necessary.
How To Plant Peppers
Follow these basic steps for planting peppers:
Prepare your garden bed by digging in finished compost and loosening the soil down to 18 inches or more. Use a low nitrogen fertilizer. Too much nitrogen results in a great big green plant with little crop.
Space the pepper plants 12-18 inches apart, depending on the variety. Some are more explosive than others.
Sink the plants about an inch below the soil level. Like tomatoes, peppers put out roots along the main stem. These added roots contribute to plant strength and larger harvest. If the seedling has begun to bloom, pinch off the flowers. Let all the energy in the beginning of the season go into growing a robust plant. The crop will follow.
After the soil has warmed to match the temperature of the air, spread a good mulch to conserve the moisture. Peppers need a consistent supply of moisture. On a really hot day, one pepper plant may require a gallon of water. Plan to watch the watering closely.
Stake the plants as they grow and put on the weight of the pepper crop. Staking is an absolute necessity with some varieties of peppers to keep the branches from breaking under the weight of the crop.
For more pepper planting savvy, check out this video by John of Grow Your Greens. He is planting 48 pepper plants in a raised bed. John's videos are filled with gardening wisdom. While you are seeking a bit more information, here is an article from Organic Gardening.
Growing Peppers in Containers
Peppers lend themselves to containers, just be certain the container is 14 inches deep or more. Use a mix of half potting soil and half finished compost. Plant in the container in the same fashion as for planting in the ground. There are two advantages to growing peppers in containers:
The pots can be moved around to provide the perfect growing conditions for your peppers. If a heat wave hits, move the pots to a cooler spot to keep the peppers from getting sun burned. As the season wanes, you can move the pots to catch the lengthening sun rays.
Peppers are subtropical perennials. If your pepper plants can be preserved from the winter cold, they can be set out again in the following season. If you have the space, it is certainly worth the effort. When winter is near, prune back the plants and move them inside or to a greenhouse for overwintering. Give the peppers as much light as you can manage. Keep them watered but not wet. In the spring you will notice new leaf buds forming on the branches. Set the plants outside when you are two weeks past frost time and the night air stays above 50 degrees. Keep the water and the fertilizer going and you will be amazed at the huge crop you get from a second-year pepper plant.
Harvesting Peppers
For the best flavor and the highest nutritive values, peppers should be harvested when they are ripe. Ripe peppers are not actually green. Peppers left to ripen will turn red, orange, or sometimes yellow. The yellow sweet banana pepper turns bright orange when it is ripe.
Here is the dilemma: Pepper plants that have peppers ripening will not set more peppers. The result will be a small crop. If peppers are picked when still green, the plant will set more peppers in an attempt to produce seed.
Here is a suggestion: Plant a few of any given variety that you intend to pick green. Plant a few more that you set aside to produce ripe peppers of that variety. The ripe peppers have a richer, more complex flavor than their green counterparts. With this plan, you can have your cake and eat it too.
When you remove peppers from the plant, clip them with garden shears or pruners. Leave an inch of stem on the plant. Do not pull the peppers by hand. This could damage the plant.
About a month before the first expected frost, prune the top of the pepper plants and pick off any small peppers just getting started. This encourages the plant energy to focus on the larger peppers, bringing them to maturity before the end of the season. It is just a little work with a big payoff.
Storing Peppers
New gardeners will often ask how to store peppers. The answer is that peppers really do not store. Pick them and use them fresh. Peppers are a warm weather vegetable and do not thrive in the refrigerator. Both the flavor and the texture suffer. Peppers will last for a day or two on the kitchen counter. For the finest pepper experience, pick them and consume them in the same day.
Preserving Peppers
Fresh peppers may not store well, but their remarkable flavors do. This is one reason for growing several varieties. Some peppers you will enjoy fresh and raw. Those same peppers may taste colorless when cooked. As you experiment with different pepper varieties you will find your favorites. For freezing and canning, sweet Italians have it hands-down for me. Every hot pepper I've met dries well and sweet banana peppers are my favorite for pickling.
As far as your preserving method goes, decide on which method will produce the pepper product you will use the most. Start there. It's a sad thing to see someone can 25 quarts of pickled pepper only to consume 2 of them and give the rest away. Preserve peppers in ways that you will use and enjoy.
Drying Peppers
Drying is the oldest of the pepper preserving methods. In hot climates where hot peppers thrive, you will see strings of peppers threaded onto fish line, hanging in the shade to dry. Where there is space, gardeners will spread hot peppers out on an old screen door supported by sawhorses. As long as there is shade, this is a fast and efficient way to dry peppers.
The more modern version of drying peppers happens in a food dehydrator like the Excalibur, about the most effective drying machine around. You can dry the peppers whole, halved, or diced depending on the pepper variety and your intended use for the dried peppers. The drying process is fast so the colors stay bright. The heat is low so the food is still considered raw, with nutrition still pretty much intact.
Bottle up your dried peppers in glass jars with tight-fitting lids. Stand back and admire your work. It really is a beautiful sight! Then place the jars in a cool dark place.
Freezing Peppers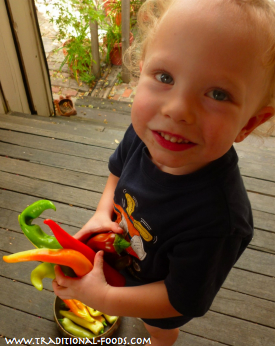 I have two favorite ways of freezing peppers based on how I use those peppers later in my cooking. Just know that frozen peppers are soggy after they thaw. If you are using them in soups and stir-fries it doesn't matter.
(For a more in-depth look at both of these methods, check out our resource on freezing peppers.)
1. Frozen, Raw Pepper Pieces Pick your peppers early in the day. Wash them and set out to dry. When they have dried remove stems, pith and seeds. Cut the peppers into pieces the size you will use in cooking. I love small pieces to add to stir-fries. Spread the pieces out on a cookie sheet in just one layer. Do not pile the pieces on top of one another. Move the cookie sheet to the freezer. When the pepper pieces are frozen (in an hour or two), scrape them loose and immediately move to a freezing container, either a plastic freezer bag or a plastic container that is freezer worthy. Work fast. You want the peppers to stay frozen and loose in the container. This way when you want a cup of pepper pieces all you have to do is open the container and pour out the amount you need.
2. Frozen Roasted PeppersThis second method involves roasting and appears to be labor intensive. Well, it probably is but you end up with the most delectable pepper additions for soup and sauces all winter long. This exercise is one of the most satisfying of all food preservation I do. Clean your peppers, remove the seeds and pith. Toss with olive oil and crushed garlic. Place in a single layer on a sided cookie sheet and roast at 450 degrees until the peppers are thoroughly cooked. Your kitchen will smell heavenly. Cool the peppers enough to handle then put into a food processor. Blend into a creamy mass. Put large spoonfuls onto a cookie sheet. What about the cookie sheet you just used? You don't even have to wash it first. Form the pepper mounds as if you were making cookies. The mounds should not touch. Freeze until firm. Pop the mounds loose and freeze quickly as in #1. Drop frozen pepper mounds into soup, stews, chili beans, spaghetti sauce.
For sweet pepper mounds I most prefer sweet Italian peppers. Any frying pepper will perform well with this technique. For hot peppers I like to mix in sweet banana pepper for color and to water down the heat. I then have a chili paste that can be added to cooked dishes, used as a dip for folks who are addicted to chili heat and flavors, used as a thin spread on lavash rollups and lots of other uses. When I run out of my own chili paste I feel like shutting down the kitchen. It's that good!