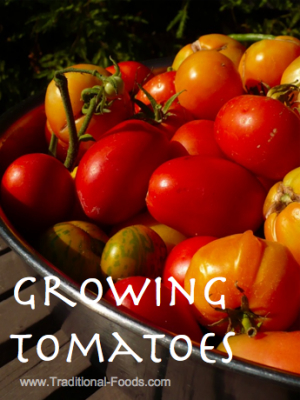 Nothing shouts summer like a vine-ripened tomato. Heaven may just be biting into a ripe tomato, still warm from the sun. Imagine a harvest basket loaded with tomatoes of all shapes, sizes, and colors — from your own garden. Tomato plants are rather easy to grow but there are a few things you should know on the front end of your tomato growing experience to ensure your full satisfaction.
Tomato Plants – Great Diversity
Tomato plants come in an assortment of body styles, come with a myriad of fruit varieties and have a number of specific growing conditions they have adapted to. Tomato plants come in two distinct body styles or growing patterns.

The determinate type of tomato plant is low and bushy. This type tomato does not benefit from pruning. In this sense, the determinate tomato is easier to manage but it does not produce as large a crop of tomatoes as does its cousin the indeterminate tomato plant. Patio tomatoes — those tomatoes recommended for container gardening — fall into the determinate class of tomato.
The indeterminate tomato grows tall and much more resembles a vine than the indeterminate tomato plant. If you are looking for a large harvest, the indeterminate tomato is the plant for you. With staking and pruning, the indeterminate tomato can be coaxed into a vertical garden scenario. This works especially well if you want to plant numerous varieties of tomato in a small space. Here is a video demonstration of this process.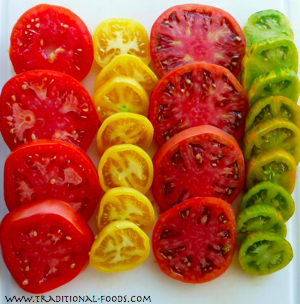 Tomato plants produce a plethora of sizes and shapes in its fruit. You need to understand this as you explore seed catalogs, even as you read the tomato descriptions on seedling plants at the nursery. Read through to get information on whether this plant produces grape-sized tomatoes, plum-sized tomatoes, or whopping 1 and 2 pounder tomatoes. If the description is unclear, your best leave the tomato plant behind. A couple of years ago, I planted a six-pack of what looked like a yellow paste tomato. I was excited about using it for cooking and canning some sauces. Those six plants produced tons of itty-bitty salad tomatoes, the kind that sell for a fortune at Whole Foods. My problem was that I wasn't selling. I wanted to can them.
Some tomatoes are great for slicing and eating fresh, but not so hot for cooking. Other tomatoes are prime for cooking and canning. Some tomatoes are known for their sweetness, others for tartness, still others for a complexity of flavor. Some tomato varieties ripen very early, others in mid-season and some in the late season. If you have a short summer, forget the late-season tomatoes. You will never see them. Whether you plant two different varieties of tomato or twenty varieties, study it out to have a pretty good idea of what you can expect in size, color, flavor, time of harvest and use.
Tomato Plants by Climate Zone
Tomato varieties have been developed to grow in almost any location imaginable. Hawaii has tomatoes developed just to grow there. Other tomatoes are destined to grow in areas like the Pacific Northwest while others are developed for the Southwest or the Midwest or Florida. What is important to know is what varieties do well in your particular location. Search advice from local gardeners, the County Extension Service, and local nurseries. If you are a new gardener, stick with those tomato varieties that have a proven winning track record with the locals.
Tomato Seeds
Tomato seed falls into the open-pollinated or the hybrid category. Depending on your long-range goals, this information could be critical for you. Below find a couple rules of thumb, but for a more in depth presentation read this fine article.
Tomato Seeds: Hybrid Tomatoes
Hybrid tomatoes are the offspring of two very different parents of the same species. You will recognize a hybrid by the "F1″ on the seed packet or the seedling label. Hybrids are developed to produce greater disease resistance and higher yields. Some gardeners find the hybrids lacking in flavor. Flavor is so subjective that you should decide this for yourself. If you plan to save seed, hybrids will shoot you in the foot. Seeds from hybrid tomatoes do not come true — next season's tomato may look awfully strange or produce a lackluster crop. Plant seeds from a hybrid tomato and be ready to be completely surprised (or dismayed).
Tomato Seeds: Open Pollinated & Heirloom Tomatoes
Open pollinated plants cross pollinate or self-pollinate. Tomatoes self-pollinate. This means that the seeds have a 91-99% chance of coming true. These are seeds you can save from year to year. Not surprisingly, heirloom tomatoes are open pollinated. These heirlooms may have descended from hybrids many generations back, but they have stabilized and produce true to form in the current generation. Open pollinated tomatoes will mutate and adapt to your soil and growing conditions over a period of time. You end up with your own very unique heirloom. Open pollinated seed can be recognized by the presence of OP on the seed packet or by the absence of the F1 hybrid indicator.
Tomato Seedlings
Tomato seedlings available in nurseries are predominantly hybrids (F1). A few of the heirlooms (OP) like Brandywine and Green Zebra are beginning to show up among the all-time favorite hybrids like Early Girl, Big Boy and Celebrity. Independently owned nurseries appear to be going out on a limb more with the heirlooms. Luis' Nursery near Visalia, CA carries a nice selection of very robust heirlooms for a brief period of time each spring. In choosing your seedling packs, look for tomatoes with thick stems and thick leaves. The thicker the better! Avoid leggy plants or ones that have started to flower. These plants may have started into advance middle age and will not produce well for you.
Growing Tomatoes from Seed
Growing tomatoes from seed is a simple process, but it does take some time. Tomato seeds should be planted indoors or in a greenhouse 5-7 weeks before the last expected frost. This chart may help you with determining when that might be in your locale.
When you grow your own tomatoes from seed, the whole wide world of tomato goodness is available to you. You will find yourself leafing through seed catalogs year-round looking for new and different tomatoes to add to your collection.
Here are a few tips:
Plant the seed in a soil-less potting mix. You can pick this up at any nursery. Using any other potting medium risks micro-organisms that can take out your seedlings before they even get their first set of true leaves. Cover seed with about 1/4 inch of planting mix.
Keep your seedling flats moist with a plastic cover until germination takes place in 7 to 14 days. This set up can be as simple as placing the flat in a plastic trash bag.
Until your tomato seeds have germinated, keep the flat in a place that provides warmth: 65-75 degrees. Some gardeners use special plant heating pads for this. After germination the seedlings can handle temperatures down to 55 degrees.
Seedlings are best bottom-watered in the early days because they are so fragile, easily broken. Bottom watering is simply putting the flat into a slightly larger pan with sides and keep an inch worth of water in the pan with sides. Water will wick up into your flat, keeping the soil moist.
When the tomato seedlings put on their first true leaves (those that look like tomato leaves), transplant the tomatoes into 4 inch pots. Use a good organic potting mix. Toss in a bit of finished compost if you have it available.
With every other watering, include a little fish emulsion to keep your tomato babies well fed.
Give your tomato seedlings as much light as you can, either in a green house, under grow lights or in a very bright window.
Set the tomatoes in the garden when the nights get no colder that 55 degrees. To get a jump start, warm up the soil by covering it with 6mil black plastic for 6 weeks before planting and then arrange for tomato caps, a floating row cover, or some form of protection for the fledgling tomatoes. If you are not familiar with floating row covers, take a look at this video. You can find row covers such as this one on Amazon.
For a nice review of the above information watch this quick video.
When To Plant Tomatoes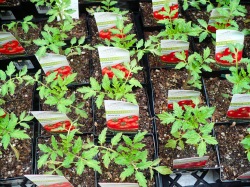 You will get the choicest information on when to plant tomatoes from veteran gardeners in your area. If you know no gardeners, check in with your local Extension Agent or Master Gardening Program.
A local feed store in our area sells what they call "freeze tomatoes." The feed store owner explains that folks buy the tomatoes in the few warm weeks of February and then return in April for more tomato plants after a freeze took out the first crop. If patrons listened to the old store owner, they would wait until April to pick up their tomato seedlings.
Tomatoes are a warm weather crop. You can manipulate your garden environment to build warmth before the natural warm arrives. Address both the soil temperature and the air temperature. When summer arrives and the air is balmy, your soil is still cold. It takes six weeks for the soil to warm up to the air temperature. You could have the experience of setting out tomato seedlings only to have them sit, shivering, until the soil warms up enough to get the growth going.
To warm up the soil, cover the tomato bed with 6mil black plastic six weeks before planting the tomatoes. The plastic cover also works to keep in moisture and keep down the weeds. Some tomato growers keep the plastic in place and pop holes in it for planting the tomatoes. You can see this in a number of videos recommended in this article.
To keep the air around the tomato seedlings warm, you need to be creative. Paper tomato caps will buy you about a month of warmth before the seedlings are no longer seedlings. Once the tomatoes fill the cap, the cap must go or the tomato plants risk bending into strange shapes and possibly burning against the paper sides. If you are not growing dozens of tomatoes you might try the wall o water contraption (here at Amazon) that uses water to absorb the sun's warmth in the day and release it at night.
You could rig some version of hoop house to cover the tomato plants, covering the hoops with 4mil clear plastic. You just have to be on the job with this idea, lifting the plastic in the hottest parts of the day to keep the tomatoes from getting cooked. This hoop house idea helps with warming both the air and the soil.
How To Plant Tomatoes
One little trick on how to plant tomatoes goes a long way in your tomato-growing success. Come planting time, about half of your tomato plant's stem needs to be in the soil. You will probably have to pinch off a set of leaves or two to accomplish this. Then, either set the plant into a deep hole for planting or trowel out a little trench and lay the plant sideways to cover the bottom part of the stem. Roots will develop on the buried stem, providing a much better foundation for good tomato plant growth. If this is hard to picture, check out this video tutorial on planting tomatoes.
Staking Tomatoes – The Indeterminates
Indeterminate tomatoes will grow to 8 feet if the conditions are right. Staking just makes sense. Tomatoes can be allowed to sprawl, but there are some really good reasons for staking:
You can plant more tomato plants/varieties in a given space if you stake the tomatoes.
It is far easier to manage and harvest your tomatoes if the plants have been staked.
Staking your tomato plants keep the fruit out of the soil and away from the critters that like to chew and the micro-organisms that cause rot.
View this video for some savvy on how to stake individual tomato plants. If you are growing a number of plants, there are other more efficient ways to stake. Take a look at this demonstration of the basket weave staking method. Brilliant! This method will also work with the determinate tomatoes. This is a tomato staking method that is economical and less labor intensive than some of the other tomato staking methods.
Tomato Cages – The Determinates
Since the determinate tomatoes are bushy and grow to no more than 4 feet, tomato cages are an answer to keep the fruit off the ground. Cages can be purchased at most garden supply places in the spring or you can order them from Amazon — here is on option. Watch this video for a demonstration of making your own tomato cages. The gardener uses reinforcing wire for pouring concrete, but his method can be adapted to lighter weight materials as pasture fencing. The video is helpful and fun.
Tomatoes get staked and caged in many different ways. It is always fun to check out the creativity of tomato gardeners. Community gardens are a treat in this respect. Watch this video tour of tomato caging in a community garden.
Pruning Tomatoes – The Indeterminates
To get the biggest possible tomatoes from your indeterminate tomato plants, the plants should be pruned as well as staked. Indeterminate plants have a main stalk that will flower all the way up to their 7 or 8 foot height. Suckers form along the main stem. These suckers flower but produce much smaller tomatoes than the flower heads on the main stalk. Solve the problem by pruning the suckers. This 10 minute video gives a wealth of information on the how and why to prune your tomatoes. The demonstration is given in a large green house but can be adapted to the home garden. Notice the tomato plants growing out of black plastic row covers — this is also adaptable to your home garden.
Tomato Fertilizer
If you have a new garden or have not spent much time in building your soil, you will want to invest in some tomato fertilizer. Check with your local nursery or order it on Amazon.
Here are a couple of home-grown tips for fertilizing tomatoes:
Add crushed egg shells and/or spoiled milk to your tomato beds. Tomatoes appreciate the extra calcium.
Do not overdo the nitrogen or you will get a forest of green leaves but no tomatoes.
Growing Tomatoes in Containers
Tomatoes in containers is a definite possibility. Consider container gardening if you have no room to plant in the ground or if you have such pest problems that containers make more sense. For growing tomatoes in containers consider these points:
Choose determinate tomatoes — the kind that bush. Nurseries will often label tomatoes that do best in containers. If you are mail-ordering, make certain that your tomato selection is recommended for your growing region.
Plant in large enough containers to support good growth in your tomato plant. A five-gallon sized pot is good.
Use a top-quality planting mix and incorporate finished compost if you have any available. It is hard to overdo the compost if it is finished and sweet-smelling.
Place the containers in the sunniest location you can manage. You will probably need to move your containers a few times during the growing season as the sun continues to move.
Arrange for regular watering, either by hand or by an automated watering system. Here is a video showing how to put together a self-watering tomato container. The concept is brilliant. The demonstration is for the benefit of the camera — it is not safe! Do the work on a work bench with some safety shield over your eyes.
Feed your tomatoes regularly. They will repay you at dinner time.
Containers for tomatoes can be anything that is large enough and drains well. This video of growing tomatoes in a potato bag will get your creativity going on what kind of containers work for tomatoes.
Tomato Diseases
Unfortunately, tomatoes do have diseases that can seriously effect the way you grow this crop. Fusarium wilt, verticillium wilt, nematodes, and tobacco mosaic virus are the usual offenders. Tomato diseases is a complex study as you can see from this chart put out by Cornell University. Your local County Extension Agent and the Master Gardening program will give you the most help in dealing with tomato diseases. Here are a couple of pointers to help:
Shop the hybrids that have been developed to withstand one or more of these tomato diseases. Seed catalogs will give you the information on this. This is where hybrids shine.
Practice crop rotation in your garden as most of the tomato diseases are soil- born. Give at least four years of grace from one tomato planting to the next. In those four years, the soil-born problems weaken hopefully to the point of no longer falling in the tomato disease category.
Tomato Worm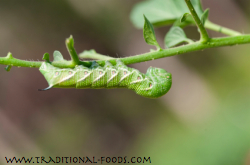 The horned tomato worm looks like a Dr. Seuss creation. As if the green, white, and black coloring isn't enough, this tomato worm comes with a horn on its head. These worms feed on the undersides of tomato leaves. Despite their outrageous coloring, the worms are hard to spot. Doing a daily walk-through will help you spot tomato worm's damage early. Early is a key. Look for tomato worms early in the morning before the sun sends them into hiding. You will have to hand pick the worms. If you are squeamish, enlist the kids. Throw the tomato worms to the chickens. This sounds brutal, but you have to think "food chain". If you do not have chickens, you probably have some big bird that likes big worms. How about a pigeon, raven, sea gull, hawk?
When To Pick Tomatoes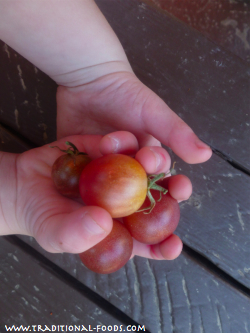 Each tomato variety has its perfect color that comes on when the tomato is ripe. The longer you grow tomatoes, the better you will get at spotting this. The ripe tomato is also just a bit softer than the unripe tomato that is sporting some color. Just beware in squeezing the tomatoes too much in deciding what to pick. You do not want to bruise those tomatoes that are not yet ready. Experience is the best teacher regarding when to pick a tomato. If you happen to pull a tomato too early, set it on a sunny window ledge for a couple of days. It will ripen — not as well as those in the garden — but it will ripen.
Storing Tomatoes
New gardeners often ask about how to store tomatoes. If you are a long-time gardener, the question sounds odd. Tomatoes do not store, at least not in the sense you can store potatoes or onions or winter squash. Tomatoes do not even keep well in the refrigerator. The refrigerator wipes out some of the flavor and changes the texture. Could this explain the mushy tasteless tomatoes you find in the grocery store? Pick tomatoes when they are ripe and keep them on the kitchen counter, out of direct sunlight. The tomatoes will stay nice for several days unless they were over-ripe when picked. What do you do with the extra bounty? You have a few choices:
Dehydrate your tomatoes, especially if they are a paste-type.
Freeze them.
Can them.
Share them with the neighborhood.
Put up a tomato stand and sell them.
This post was shared at Traditional Tuesdays, Fat Tuesday, Tip Me Tuesday, Tuesdays at the Table. Real Food Wednesday, Fight Back Friday