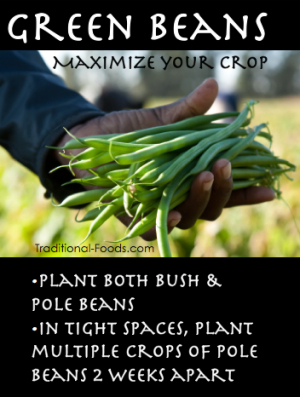 Many consider green beans to be America's second favorite garden crop, after tomatoes. If this is true for you, then you probably want the maximum crop possible, don't you? I know I do!
Here are two simple approaches to getting more beans than you've dreamed possible.
Plant Both Bush Beans and Pole Beans
The bush beans produce earlier than the pole beans. The beans tend to come on all at once and the the plant is finished. By then, the pole beans start to set.
Pole beans take time to make vines (up to 10 feet worth), so the beans come on later. Beans will set for 1-2 months depending on your weather. That's a lot of bean-y goodness!
Space-Limited Gardens: Multiple Pole Bean Crops
Plant a succession of bush beans 2 weeks apart.
If you plan to be gone for a few weeks, then figure that into your plantings. There is no need to have beans setting when no one is home to enjoy them.
Get a jump on the season by starting bean seeds indoors or in a green house. Keep those seedlings warm! They are heat lovers. Do not set the seedlings in the garden until the soil temperature is about 70 degrees.