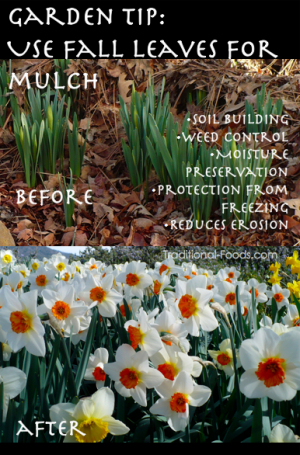 Mulch is any organic or inorganic material used to cover the soil of a garden bed or garden pathway. Mulching does take a little time and effort, so its wise to be sold on the purpose of this practice. Mulch provides a number of benefits for the home gardener:
Mulch is your best friend when it comes to weed control. A good heavy mulch will save you countless hours dealing with the weed population. Save your energy for more creative endeavors. Notice in the two photos of our daffodil bed below. We mulch very heavily with oak leaves before the rains start and the weeds sprout. Then come the rains and the daffodils pop up through the mulch as you see in the first picture. In a few weeks we have a sea of flowers and no weeds. Mulch can eliminate the use of herbicides.
A good mulch layer will absorb and hold water close to your soil. It will also keep your garden soil from losing quantities of moisture through evaporation. As a result, mulch is a critical element if you are gardening in an arid climate. You can save water and save time if you do hand watering.
Mulching your garden bed insulates the soil from the temperature extremes of night and day. This is more significant in some climates than in others. We often vary 35 degrees between night and day. The uniform temperature is friendly for the roots. They adjust to the constant temperature instead of reeling about for balance between hot and cold. Plants tend to be much healthier as a result.
~
Mulch is good insurance against erosion. Living in the mountains, I have become acutely aware of how important this is. Mulch works wonders in keeping soil in place.
Use of an organic mulch gives the added benefit of building your soil because the organic matter breaks down each season. (Yes, you have to keep renewing the mulch.) Your mulch will disappear into the soil causing it to be black and friable. There is nothing more beautiful than a handful of beautiful black soil.
Which Mulch For Your Garden?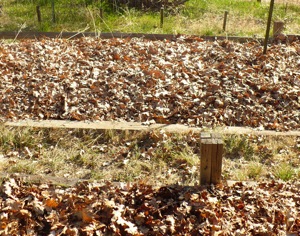 Whenever possible use an organic mulch — leaves and grass are the most common. Use organic matter instead of other options such as weed-control plastic cloth. Do this for two reasons:
The organic material will probably end up in a landfill if you do not use it. Put it to a great use instead. Mulching with organics is about as earth friendly as you can get.
An organic mulch will break down and build your soil. The soil building benefit of organic mulches is one you do not want to miss out on. The richer your soil, the more bountiful and healthy your harvest!
Leaves and grass clippings are the most widely available options. If you use grass clippings, spread them out to dry for about a week before applying them directly to a vegetable bed. Depending on where you live, spoiled hay is a good choice. Finished compost is another option and is much like caviar on your garden beds. Plants shine and thrive with this kind of treatment. Here is a good overview on mulching with an emphasis on using leaves.
Inorganic Mulch: Plastics
Depending on your circumstances, you may need to use an inorganic mulch option. There are plastic options available, but do take care not to let them decompose in your garden. It just seems a shame to end up with a plastic garden.
Four mil sheets of black or green plastic are used more and more in commercial operations. You can check that out in the video at right showing plastic mulch being applied to a raised commercial bed.
Plastic mulch works wonders at keeping down the weeds, keeping in the moisture, and keeping many bugs and much dirt off the produce. I have used it just a bit in my home garden and plan to use it more this season. I will cover a prepared bed with black plastic one month before planting. This warms up the soil. Then I will pop holes in the plastic to plant in just like they do in the video. As the summer turns hot, the plants should shade the plastic so the soil does not over-heat.
There is a commercially-produced plastic matting that can be rolled in garden pathways for weed control. I have not used it, but do ascribe to the idea.
You will find yourself being very creative with mulching pathways. A friend of mine bought a home that had sisal rugs. She was allergic. The rug got cut into strips and laid in her garden paths. It worked fabulously and looked pretty cool too.
A Third Mulch: Newspapers
Newspapers fall in a category of their own. They are organic, but processed and still very useful. You can apply them directly to the beds or use them in the walkways. Unless you live in a really damp climate, the newspapers need to be covered with another mulch to keep them in place. Grass clippings are a fine answer. This is where the grass clippings can be spread to dry. Check out this video which offers a paper mulching technique:
Newspaper inks are soy-based now, or at least they are supposed to be. I use black and white print and pass on the colored inks. (I still feel a little queasy on the colored inks.)
For a few years I heavily mulched my garden paths with newspaper covered with grass clippings. As the garden was about 1/4 of an acre, this mulch saved me from some murderous weeding. Actually, I could not have managed so large a piece without the help of the mulch.
Try this method and you will discover the added fun of catching up on old news as you lay out the newspapers. One woman gave me a mountain of LA Times she had been saving for a paper drive. That is where I found my favorite zucchini cake recipe.
If you have gardened but have not mulched, then mulching will look a bit strange at first. Give it a season. You will see the difference it makes in the plants – they will produce much healthier, better crops. The day will come when bare soil disturbs you. "Where's the mulch?" you'll cry. You'll see.
In the meantime here are a few excellent resources to peruse, enjoy, and get mulching:
Enjoy your mulch projects!