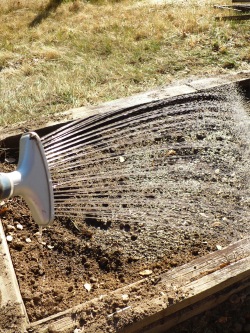 A lush summer garden and an abundant harvest begins with soil building that occurs in the winter or in the early spring. Without healthy soil, your yields will be lackluster, as will be the flavor and nutrition of your food. If you have a number of garden beds, as we do, it makes sense to start preparing the beds well in advance of spring planting. Besides giving the buried organics time to break down, starting early gives you more time in the fresh air and sunshine (if you are lucky enough to have sun in the winter).
Here are the steps I have have followed for decades. Do the same and each year your soil will be more friable, crumbling easily into your hands. It will also be richer in nutrients and provide you with more produce than you would ever dream.
Soil Building Steps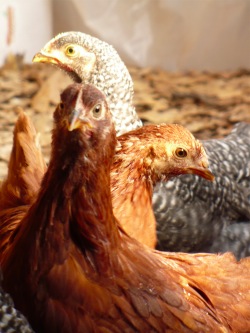 Gather organic materials.

Leaves are an obvious item. We consider them a crop, not a nuisance to have to rake. In fact we haul in leaves from other properties to supplement our own leaf fall.
Green weeds are a dynamite choice, but gather only enough to work with in a one or two day span. As the weeds dry, they lose some of the benefit they would otherwise bring to your garden.
Dry weeds may abound in your area. Rake them up for use. They need to go somewhere anyway. Make fine use of them in building that bed.
Coffee grounds and crushed egg shells are a good addition. Some of the Starbucks locations make coffee grounds available. Check it out. Do you have a connection with a restaurant? Get them to save coffee grounds for you.
Hair from a salon or barber shop is a high nitrogen addition but it should be "virgin hair" — not treated with chemicals such as color.
Bedding from the hen house or horse stall is rich in nitrogen. We throw a lot of dried weeds into the hen house for bedding in the early summer. Those girls rake through it, eating seeds and bugs until the weeds are finely ground. This is a super addition to the garden!
Ashes from the wood-burning stove help to balance the acidity of oak leaves if those are the leaves you are using.
Manure adds instant nitrogen to help break down the organics you are adding. If you do not add something like manure you will probably end up with a nitrogen deficiency your first season (recognized by yellowish leaves and general failure to thrive). Do add manure if at all possible. Bags can be purchased at a store like Lowes for very little. I paid $1.47 for a bag I can hardly lift. You may be fortunate enough to get all the free manure you can handle from a horse stable or from a high school running an ag program. I have done both. It is messy, but fun.

Mark off your garden bed with a few stakes and some twine. This is especially necessary on a first-time bed. Dig without some boundaries and your bed will look like it was laid out by a happy drunk. In the second season your bed boundaries may be clear enough that you will not need markers. If you have garden beds in boxes built for that purpose, of course, your boundaries will be well-defined.
Starting at one end of the bed, deeply bury organic material using a trenching method. This is how to do it:

Dig a narrow trench at the end of the bed, throwing the soil into a wheelbarrow. Dig out as much as you can of another shoveling in the same trench. The trench will now be 16 to 20 inches deep. The soil in the wheelbarrow will be used at the far end of the bed when you get there with your trenching.
Pile an assortment of your collected organics in the trench and sprinkle with manure. Do not skimp on what you add. Green matter such as weeds will break down quickly and create rich garden soil.
Dig a new trench right in front of the first trench, throwing the soil forward on top of the first trench. The organics get buried and the trench gets filled.
Repeat steps 2 and 3.
Using a heavy iron rake, start breaking up lumps and smoothing out the soil, pulling it toward you without pulling it into the new trench.
Continue to the far end of the bed. Use the wheelbarrow load of soil from the beginning of the bed to fill the last trench. Voila!
Sprinkle a little manure and wood ash (if you need to balance acidity from oak leaves or pine needles) over the top of the bed. Rake it in with your heavy iron rake.

Water down the bed using a hand sprinkler. The soil will settle a bit and the moisture will jumpstart the breaking down of the organics. Water it again on the second day. Think of this watering as rain, not a flood. Of course, if you live in Portland or Seattle, you may not need a hand sprinkler at all. Let the rain come down!
Cover the bed with a good thick mulch of leaves. This keeps down the weed population and conserves water. A good mulch layer also keeps the soil temperatures consistent between day and night which is advantageous to root growth.

Cover the bed with a strip of 6mil black plastic. (This step is optional but recommended for warming up the soil. ) This is the type of plastic used during home construction and you may have to buy a huge amount of it. If so, find a few gardeners who will split it with you. Secure the edges of the plastic so it will not blow in the wind. Use something heavy like bricks, logs, 2×4′s, or pieces of metal pipe. Now why would you go to all this trouble? When the air warms up in the spring you assume the whole world is warm but it takes six weeks for the soil to warm to the same temperature as the air. You could set out tomato plants on the first warm day of spring and they will just sit there shivering for six weeks. Warming the bed with black plastic can give you a six-week jump start on the growing season. If your season is short, this little bit of advice can change your gardening life!
Get started today. This description of bed building may sound a bit daunting, but once you are at it with shovel in hand you will see the simplicity and beauty of it. The gathered organics for the most part are things you have to clean up from your yard anyway: leaves, weeds, grass clippings. If you do not have room for an actual compost pile, this bed building is a prime way to recycle what your property is producing.
Repeat the first five steps year after year and you will end up with soil that is rich and workable as deep as 24 inches. Grow a carrot 18 inches long that is as big around as your arm. That is what rich soil can do.