Why would you go to the trouble of starting your vegetables indoors from seed? Three very good reasons.
Variety
When you select your own varieties from the many different seeds available, you find a treasury of vegetables that you'll not find in the market. You can be eating red carrots, watermelon radishes, pineapple tomatoes, and purple broccoli. Choose from a variety of sweet Italian peppers, various paste-type tomatoes, bush green beans, and pole green beans.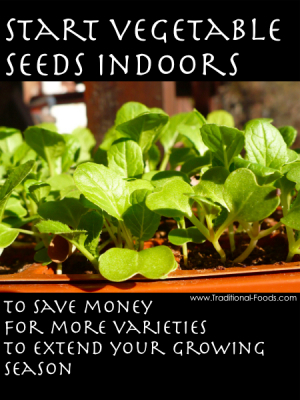 With seeds, you can be wild and extravagant andyou can be 99% certain that no garden center will be carrying these seedlings among its spring offerings.
Experiment! Try varieties you never heard of. It will just cost the price of the pack of seeds. Go through seed catalogs and drool. Once you've ordered seed from a company, they will probably send you a catalogue for the next couple of years. Save the catalogs and dream about next season.
Save Money
If your garden is sizable, seed starting is the way to save money. This past planting season, I estimated that if I had to pay commercial prices for the seedlings I set out, they would have cost me $200. That doesn't fit my money-saving plans!
Having a large garden lets you over-plant and then thin as the plants grow. You eat the thinning, giving you a crop almost immediately after planting. More savings! Having your own seedlings makes this possible.
Extend The Season
To get the maximum harvest from your plants even if your season is short, get a jump start planting seeds indoors. This can give you a 2-3 months head start.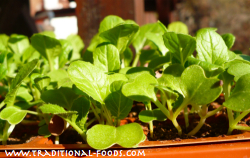 To get an even larger harvest of favorite vegetables, plant three varieties – an early season, mid season, and late season. Good seed catalogs will give you the information you need to make your selections. For example, if tomatoes are your favorite, you would plant an early season, a mid season, and a late season tomato. By the time the late season tomatoes are ready for harvest, the early season tomato plants will probably be pooped out and ready for the compost. You can have several more weeks of garden tomatoes this way.