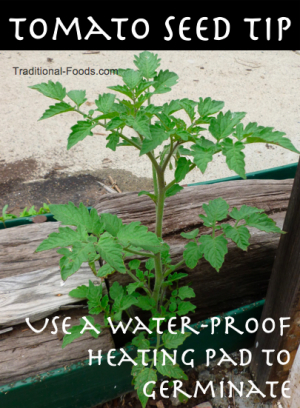 To have access to that amazing range of heirloom tomato varieties, you have to start your plants from seed. If you wait to pick out heirlooms from a garden center in the late spring, you could be sorely disappointed from the lack of variety.
Here's the rub: Tomato seeds germinate at temperatures between 70 and 80 degrees. Can you provide that kind of consistent heat in February or March? I can't. If the air temperatures are too low, the seed will simply rot. Break my heart!
Serious greenhouse operators have heating devices for such situations. Seeded flats sit on heated pads until germination is complete. Seedlings can handle cooler temperatures, so they are moved off the heated pads and other seeded flats take their place. This is a great system, but the heating set-up can be expensive.
An alternative to the traditional heat set-up is to use a pet heating pad. They come in a variety of sizes and prices, but much less pricey than the traditional seed starter set-ups. Pick one with a water-proof surface and you are in business. Amazon has a good assortment to choose from here.
Happy planting!