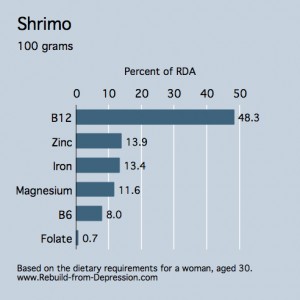 Shrimp is a food with moderate amounts of the beneficial Omega 3 fatty acids, but it is rich in vitamin B-12, B-6, iron and zinc. Notice the content of these brain-building minerals at right.
Shrimp Gumbo
Chop one tablespoon of onion and one tablespoon of green pepper and cook for five minutes in two tablespoons of butter. Add four cups of fish or chicken stock, three-eighths cup of okra, three-quarter teaspoon of salt, and one-quarter teaspoon of pepper. Simmer for fifteen minutes. Rub through a puree strainer and add one can of shrimp. Reheat and serve.
Shrimps A La Newburg
Remove intestinal veins from one can of shrimp and cook for three minutes with one-half cup of sliced mushrooms in two tablespoons of butter. Add one-half teaspoon of salt, a few grains of cayenne, and one teaspoon of lemon juice. Cook for one minute. Remove shrimp and add one tablespoon of butter, one teaspoon of flour, and one cup of cream. When thickened, add two egg yolks slightly beaten, shrimp, and three tablespoons cooking sherry. Make a border of mashed potato around scallop shells using a pastry bag and tube. Put shrimp in the center, brush the potato with eff white slightly beaten and put in a hot oven until delicately brown.
Flounder Balls Baked With Shrimp Souffle
Melt four tablespoons of butter, add four tablespoons of flour. When smooth, add one and one-third cup of scalded milk. Stir and cook until the sauce is thick. Add one-half teaspoon of salt and one-quarter teaspoon of pepper. Use three-quarter cups of cooked fillets of flounder and separate into flakes. Add two teaspoons lemon juice and just enough sauce to bind together. Shape in balls and place on four slices of toast from which the crusts have been removed.
To one-half cup of the sauce, add two egg yolks beaten until thick and lemon-colored, fold in one can of shrimp cut in quarters and two egg whites beaten until stiff and dry. Cover the toast and shrimp with the souffle mixture and bake 8 to 10 minutes at 450 degrees. To the remaining sauce, add one-half cup of fish stock or milk, two tablespoons of heavy cream, one-half tablespoon of lemon juice, and salt and cayenne to taste . Serve around the fish as soon as it comes from the oven.
Related posts:
You might also enjoy: