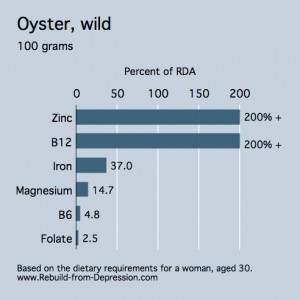 Oyster is a high Omega 3 food that helps maintain a healthy brain and heart. Oyster is also an iron rich food. Notice in the figure at right that it also contains high levels of B vitamins. We offer some basic recipe ideas below for oyster-lovers.
Oyster Sandwiches
Clean and pick over one-half pint of oysters. Drain and force through a food chopper. Heat to boiling and drain reserving the liquid. To the liquid, add sufficient cream to make one-half cup and heat in a double boiler. Melt two tablespoons of butter and add two tablespoons of flour. When smooth, add the liquid and stir until thick. Add one egg yolk mixed with ine tablespoon lemon juice, the chopped oysters, one-quarter n of salt, a dash of pepper and cayenne. Remove from heat and cool. Toast your favorite bread and top with the oyster filling.
Oyster Shortcake
Chop one cup of celery and cook for seven minutes in boiling water with one-half teaspoon of salt. Pick over one pint of oysters. Cook them in their own juices until the edges curl. Drain, reserving the liquid. Melt four tablespoons of butter and add four tablespoons of flour. When well browned, add the oyster liquid with enough celery water or stock to make one cup. Stir until the sauce boils and add one-half cup of milk, one-hald teaspoon salt, one-eighth teaspoon pepper, one teaspoon anchove paste, celery, one pimento cut in strips. Bake a shortcake, split, and spread with butter. Pour the oyster mixture on the lower half, cover with the upper half, and garnish with parsley.
Oyster Stew
This is a simple oyster stew that would make a nice complement to many meals. Pick over carefully one pint of oysters, removing any bits of shell. Add one-third cup of cold water and cook until the oysters are plump and the edges begin to curl. Remove the oysters with a skimmer and add to the oyster liquid two cups of scalded milk. Add strained oyster liquid and two tablespoons of butter, one-half teaspoon salt, and a dash of pepper. Serve in small bowls or cups.
Related posts:
You might also enjoy: