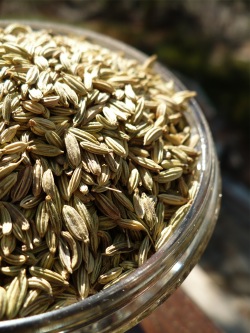 Anise seed develops on the large flat flower heads of a plant belonging to the parsley family. This makes anise an annual in most areas. Anise comes from an annual flowering plant in the family Apiaceae, which is native to the Mediterranean area and to Southwestern Asia. It can grow as tall as 0.91 m (3 ft.). Anise seed is actually considered a fruit, but drop it in the ground under the right conditions and it will grow a new plant. Decide for yourself whether you want to call it a fruit or a seed. Many of us call it a seed.
Anise has been grown through the centuries for seasoning food and drink. Anise is native the the eastern area of the Mediterranean. From there its use spread through Europe and Southern Asia. It later came to the New World with the Portuguese and Spanish explorers.
–>Best deal on anise seed on Amazon: right here<--
Anise in Cooking
Anise carries the flavor we associate with licorice — the distinct flavor of black jellybeans. It is not surprising then that most cultures have a couple of specialties in which they use anise seed. Anise is essential in the pfeffernusse of Germany and the pizzelle of Italy. Almost every European country has a famous confection based on the licorice flavor of anise seed.
Anise in Drinks
As a digestive aid, most cultures found a way to use it in a drink. The most prominent of those drinks are liquors. However, the digestive properties of anise can be reached without the alcohol. A simple tea is tasty and healthful. Simmer a teaspoon of seed per cup of water in a glass of enameled pot. Simmer the tea for five to thirty minutes depending on how strong you want the flavor. Crushing the seed just a bit before the simmer will release more flavor still.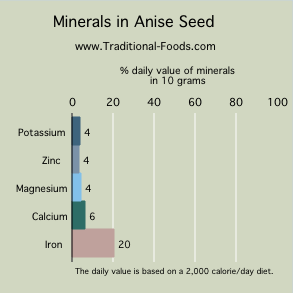 The mineral profile of anise suggest that you are adding small amounts of minerals to your food and drinks, a bonus on top of the distinct flavor of this seed.
Buy Anise in Bulk for the Best Price
If you are going to use anise on a regular basis you will want to buy it in bulk. Those small containers at the grocery may not be fresh and they will break the bank. Research online for a good herb distributor, one known for freshness and cleanliness. We recommend this source for quality herbs and spices. Buy only what you believe you will use in a year.

Storing Anise Seed
Keep your anise seed in glass containers with tight fitting lids. This keeps the flavors in and also keeps flavors of different herbs from mingling. You do not want your nutmeg taking up the flavor of the curry powder sitting on the same shelf. Anise, like any herb or spice, should be stored in a dark, cool, dry location. Most pantry situations are adequate. The last thing you want to do is keep your precious herbs and spices above your cooking area where temperatures can get quite high.
Anise Pizzelle Recipe
If you plan to bake with anise, remember that spices in seed form release their unique flavors when they are cracked, ground, roasted, fried, or a combination of these processes. Keep it in seed form until you are ready to add it to a recipe. Grinding in a clean coffee mill is quick and easy.
Follow the grinding procedure for the anise when you are making pizzelle. The flavor you get in your cookies will amaze you. Pizzelles are an Italian cookie baked on a special cooking surface similar to a waffle iron. A pizzelle maker is a fun way to turn out these anise-flavored, thin and crispy cookies in a hurry. Make pizzelles on a day when the humidity is low and then store your anise wonders in a container with a tight-fitting lid to maintain the crispness that is one of their most cherished characteristics.
Anise Pizzelle Ingredients
3 eggs
3/4 cups sugar
1 teaspoon vanilla
3/4 cups butter, melted
1 3/4 cups flour
1/2 teaspoon ground anise seed
2 teaspoons baking powder
Anise Pizzelle Steps
Beat the eggs and sugar.
Stir in the cooled, melted butter and vanilla.
Mix together the flour, anise, and baking powder.
Add the dry ingredients to the wet ones and stir well.
Cook, followng the instructions on your pizzelle maker.
When the cookies are completely cool, store in an airtight container. A cleaned 3 pound coffee can works well for pizzelles. They are just a little smaller than the opening in the can and therefore stack perfectly with little shuffling around.
Shop for gift containers that hold pizzelles. You will find that these anise-flavored cookies make welcome gifts.
Anise Seed Minerals and Vitamins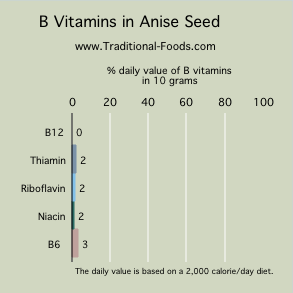 Anise seed can contribute in small ways to your nutrition. It is a source of iron and manganese (as you can see from the graph above). It also has small amounts of B vitamins. Most people do not consume enough of it to use it as a nutritional tool, but it does add a touch of nutrition to your baking or beverages.
Macronutrients
Component

Amount

% Daily Value*

Calories

34

Protein

1.8 g

3.5%

Fat

1.6 g

2.4%

Carbohydrate

5 g

1.7%

Fiber

1.5 g

5.8%

Potassium

144 mg

4%

Sodium

1.6 mg

.01%

Sugar

. g

Water

.1 g

Ash

.07
*The daily value is based on a 2,000 calorie per day diet.
Vitamins
| | | |
| --- | --- | --- |
| Vitamin | Amount | % Daily Value* |
| Vitamin C | 2 mg | 3.5% |
| Thiamin – B1 | .03 mg | 2.3% |
| Riboflavin – B2 | .03 mg | 1.7% |
| Niacin – B3 | .3 mg | 1.5% |
| Pantothenic Acid – B5 | .08 mg | .8% |
| Vitamin B6 | .07 mg | 3.2% |
| Folic Acid | 0 mcg | |
| Food Folate | 1 mcg | |
| Vitamin B12 | 0 mcg | 0% |
| Vitamin A – IU | 31 IU | .6% |
| Vitamin A – RAE | 1.6 RAE | |
| Retinol | 0 RE | |
*The daily value is based on a 2,000 calorie per day diet.
Minerals
| | | |
| --- | --- | --- |
| Mineral | Amount | % Daily Value* |
| Calcium | 65 mg | 6.5% |
| Iron | 3.7 mg | 20% |
| Magnesium | 17 mg | 4.3% |
| Phosphorus | 44 mg | 4.4% |
| Zinc | .5 mg | 3.5% |
| Copper | .09 mg | 4.6% |
| Manganese | .23 mg | 11% |
| Selenium | .5 mg | .7% |
*The daily value is based on a 2,000 calorie per day diet.
Anise seed: Treat them well. Use them bravely. Enjoy the flavor that has endured for thousands of years.
Related posts:
You might also enjoy: