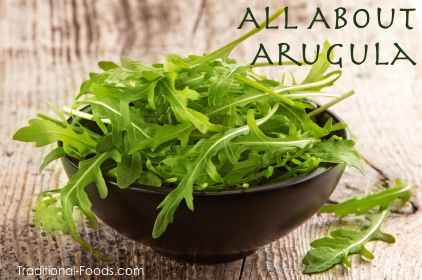 Until twenty years ago, who in this country had heard of arugula other than good solid Italian families? Then, suddenly, arugula was a gourmet addition to salads. Now it has snob appeal. Who would have thought? While arugula appears to be a newcomer on the food scene, this is far from the truth.
Ancient Romans used arugula leaves combined with chicory, lavender, and mallow as a salad. The salad was regular fare and arugula was a common commodity. The leaves were prized for salads while the seeds were used to flavor oils. Arugula was considered an aphrodisiac and general cure-all.
Arugula is a native of the Mediterranean and has grown as far west as Morocco. The plant is a member of the cabbage family and a close relative of mustard and radish.
With its Mediterranean heritage, it is nearly a staple in Italian cuisine. In the United States, almost every Italian home had it growing somewhere. We were introduced to arugula by Italian friends who brought over an amazing salad. Dinner was long over before I was let in on the secret to this great salad. My first question was whether arugula would grow in my garden. They laughed hysterically. Arugula was growing in the cracks of their driveway. Everyone should have an Italian introduction to arugula. In case you have not had one yet, click on this great video.
Why Americans Now Love Arugula
In the ground-swell interest in antioxidants for health and anti-aging properties, arugula has come to center stage as never before in its long existence.
It is brimming with vitamins and minerals, but lacking the oxalates that interfere with mineral absorption.
Cooking arugula diminishes the peppery quality causing cooked arugula to taste very much like spinach. This way you can eat mountains of it.
The calories in arugula are almost negligible: 5 calories per cup for raw arugula. Watch this video from Cook Yourself Thin for instructions on making an arugula salad.
This garden green is quick in and out of the garden if you grow your own. It reseeds liberally and germinates readily, given enough moisture. The retail price for young arugula is high, so you can make a profit is you are growing to sell. It is currently a major player in the micro-green market.
Buying Arugula
Arugula can actually be purchased these days. Look for what is labelled as baby arugula. These plants are young and tender and not too hot. It does not hold well so only purchase what you can use in two or three days. Keep it in a plastic bag in the refrigerator.
If you are buying more mature arugula to cook, beware of arugula with flower shoots. The plants are older and the leaves are probably very hot. If the leaves are yellowing or wilting, it was held too long. Pass it up.
Cleaning Arugula
Arugula grows in sandy soil and manages to cling to a fair amount of it. To get rid of the grit, fill a large bowl with cold water and swish the arugula in it for a minute. Pull out the arugula and examine the water. Expect to see a deposit of sand in the bottom of the bowl. Pour out the water and refill. Swish it and continue the process until the water is clean. This water bath not only cleans it but helps to plump it up, refreshen it. (For a quick video on the topic, check out our cleaning greens page.)
Culinary Uses of Arugula
Though probably most common in salad, arugula has a lot of uses.
Salads
Few people have experienced arugula for any purpose other than salads. If you are new to arugula, you may want to mix it with more mild greens like romaine, leaf lettuce, or spinach. You may also really appreciate the pungency of an all-arugula salad. The possibilities for dressings and add-ons are endless. Whichever way you go, just use the green leaf and discard the woody stem.
As A Cooked Green
Remember that cooking the arugula reduces the peppery aspect of the flavor in a big way. Cooking arugula is a good way to use over-grown arugula from the garden. Thoroughly clean your arugula. Remove the leaves from the stems and use the leaves in any recipe that calls for fresh spinach or Swiss chard. The only exception in following the directions is the cooking time. Arugula leaves are cooked in about one minute. Do not over-cook them and they will remain a bright emerald green, a stunning addition to any plate.
In Soups And Stews
Clean the arugula, remove stems and shred the leaves into ribbons. Add the ribbons when the soup or stew has finished cooking. The heat of the cooked soup (stew) will amply cook it without over-cooking it. When you serve your dish, the arugula will still be bright green and the texture tender.
In Drinks
Arugula can be added as a green to juicing combinations. Some smoothie aficionados are experimenting with greens in their drinks. Here is one who is including arugula.
However, remember that the arugula is raw and therefore has the peppery quality associated with mustard. You may find that arugula blends better primarily with vegetable juices. Keep in mind that you can opt for baby arugula — a much more mild leaf than the mature arugula.
Arugula in the Garden: Growing Arugula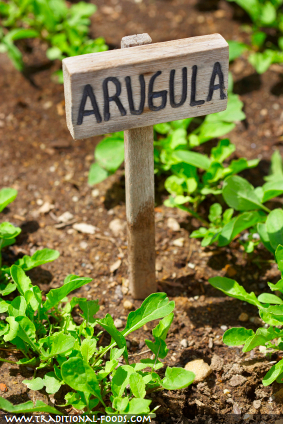 Arugula is so easy to grow there is no excuse for not growing your own. If you live in a cave or the third level down in a basement apartment, you can grow arugula sprouts and cash in on all that nutrition. The ideal, of course is to grow arugula on a patch of soil or in pots on your front stoop.
Arugula is a cool weather plant so bear that in mind when you get ready to plant. Spring or Fall are ideal. Factor in successive planting twenty to thirty days apart. Arugula may work for you in the summer if you can provide some respite from sun in the middle of the day. Give it a try, but remember that heat causes arugula to grow hotter and more bitter.
Arugula shoots to seed quickly. The good news is that the flowers are edible and actually very interesting in a salad. Let one plant mature seed. Either gather the seed or let it scatter. Take a look at what wonders can happen when it goes to seed.
Related posts:
You might also enjoy: