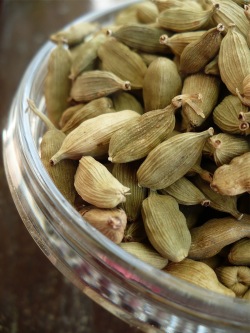 Cardamom pods have been valued as a spice, a flavoring agent for thousands of years. Cardamom originated in southern India where its popularity has spread pretty much world wide. Today it is grown in a number of locations in Southeast Asia. Most of what is consumed in the Western Hemisphere is grown in Guatemala.
Cardamom pods are actually seed pods from the perennial Elleteria, a member of the ginger family. The pods are picked before they fully ripen and set to dry. Since the true value of cardamom is in the seed rather than the pod, every effort is made to preserve the freshness of the seeds. If the pods were allowed to fully mature, the would probably open and begin scattering their precious seed.
–>Best price on cardamon at Amazon: right here<--
Types of Cardamom Pods
Green Cardamom Pods – This is the most sought-after form of cardamom for all types of cooking. Its flavor blends nicely with both sweet and savory dishes.
Black Cardamom Pods – The flavor of this cardamon is heavier, described as smoky, more earthy. Since this form of cardamom is not in favor, you will probably not find it in the market unless you live in a cardamom-producing area.
Getting the Most Flavor from Cardamom Pods
The unique sweet spiciness of cardamom is carried primarily in the seeds found inside the pods. If you have ever purchased a bottle of ground cardamom in the spice section of the grocery store, know that you were not experiencing true cardamon goodness when you lifted the lid. Most consumers who have bought ground cardamom have only done so once. The price is high. The impact is low.
There is also a good reason why the cardamom impact is lost in this sort of packaging. The pods contain small seeds that carry the real flavor. Once the pods are cracked and the seeds released, the flavor in the seeds is quickly lost. They simply do not maintain their freshness. The second reason for the lack of flavor in ground cardamom is that the pod and the seeds have been ground together and then bottled. As a result, besides losing the freshness of the seed, the flavor of the seed is watered down by the presence of a much less flavorful pod.
How do you get the most out of your cardamom? Shop for a fresh crop of dried whole pods and crack them yourself when you are ready to use those fine little seeds. Buy only what you think you will use in six to nine months and then reorder.
Keep your cardamom in glass jars with good-fitting lids. Store the jars in a cool, dark place like a pantry. The worst thing you can do is store them above your cooking area. The heat will take a huge toll on your purchase.
Cardamon can be cracked open with a mortar and pestle. Then separate the seeds from the pods for maximum flavor. Another cracking possibility is to use a dedicated coffee bean grinder. This works well, but do not use a grinder that also grinds coffee beans or your spice flavor will be severely compromised.
Separate the cardamom seeds from the pods when you are ready to use in cooking. It is a mistake to try to save seed for later. You will have lost a significant amount of your cardamom flavor.
If you are using cardamom in soups, stews, and savory concoctions like that, then there is no need to separate the cardamom seed from the pod. You have two choices. You can throw the whole cardamom pod into the soup pot or you can crush it a bit before throwing it in. The pod will dissolve in the cooking process adding its own bit of flavor to the pot. The seeds that have been nestling inside the pod will be released to provide their spicy goodness to your dish. You just want to be certain that those cardamom pods are as fresh as possible.
Cardamom Pods in Tea and Coffee
Cardamom pods are used commonly in some cultures to create rich teas and coffees. The most well-known is probably chai tea which is a tea that starts with mulling of cardamom, cinnamon, peppercorns, and more. After these spices are mulled, you can brew a black tea in your mulling brew and then add a sweetener and cream for a tea sensation. For a more streamlined approach, add some fresh ground cardamom seeds to your black tea and let it steep. Strain it and enjoy.
In North Africa, cardamom seeds are ground along with coffee beans (with up to a 40% portion of cardamom) to create a distinct coffee experience. You can try this at home if you have a coffee grinder.
Where to Buy Cardamom Pods in Bulk
We tend to buy cardamom in bulk, buying about what we would use in a year's time. The pods stay fresh, particularly if they are stored in an air-tight container in a cool pot in your home. Bulk cardamom pods will offer the best value. When we do buy in bulk, we tend to make a list of cardamom pods and other herbs and spices we will be needing and buy from this trusted vendor. The quality is extremely good and the prices are great, particularly if you buy a number of things and combine the shipping cost. This is a vendor who sells to the higher-quality local bulk herb stores you can find in larger cities.
Nutrients in Cardamom Pods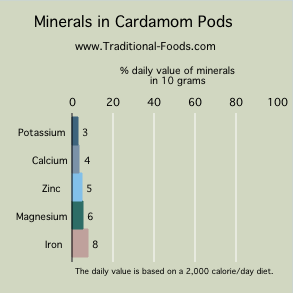 A side benefit of the great flavor of cardamom is its mineral content. Ten grams of cardamom (about 1 1/2 tablespoons) provides about five percent of your daily required zinc, magnesium, and iron according to the USDA nutrient database. Most of us do not consume enough for it to make a dramatic impact on our nutrient intake, but it does add in small ways to the minerals in our diet.
Macronutrients
Component

Amount

% Daily Value*

Calories

31

Protein

1 g

2.2%

Fat

.6 g

1%

Carbohydrate

6.8 g

2.3%

Fiber

2.8 g

11%

Potassium

112 mg

3.2%

Sodium

1.8 mg

.01%

Water

.8 g

Ash

.5
*The daily value is based on a 2,000 calorie per day diet.
Vitamins
| | | |
| --- | --- | --- |
| Vitamin | Amount | % Daily Value* |
| Vitamin C | 2 mg | 3.5% |
| Thiamin – B1 | .02 mg | 1.3% |
| Riboflavin – B2 | .018 mg | 1% |
| Niacin – B3 | .1 mg | .6% |
| Vitamin B6 | .023 mg | 1% |
| Vitamin B12 | 0 mcg | 0% |
| Vitamin A – IU | 0 IU | 0% |
| Vitamin A – RAE | 0 RAE | |
| Retinol | 0 RE | |
| Vitamin D – IU | 0 IU | 0% |
| Vitamin D – mcg | 0 mg | |
*The daily value is based on a 2,000 calorie per day diet.
Minerals
| | | |
| --- | --- | --- |
| Mineral | Amount | % Daily Value* |
| Calcium | 38 mg | 4% |
| Iron | 1.4 mg | 7.8% |
| Magnesium | 23 mg | 5.7% |
| Phosphorus | 18 mg | 1.8% |
| Zinc | .75 mg | 5% |
| Copper | .04 mg | 2% |
| Manganese | 2.8 mg | 140% |
*The daily value is based on a 2,000 calorie per day diet.
Related posts:
You might also enjoy: