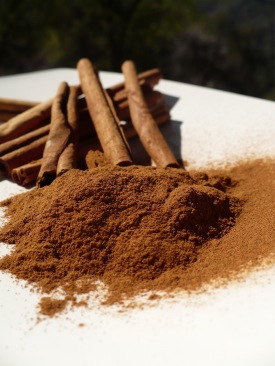 Cinnamon powder is a seasoning rich and minerals and antioxidants that has versatile uses in cooking. Cinnamon is commonly used in baking breads and pastries such as these chocolate cupcakes but it can also be used in savory dishes such as this Moroccan-inspired beef dish to bring a new flavor to meats and sauces.
Cinnamon seems as American as apple pie. It is a key flavoring agent in many breakfast cereals, cookies, coffee cakes, and yes, apple pie. We could try to claim it as our own, but there is hardly a culture world-wide that would not feel the same way about cinnamon.
Cinnamon use is recorded as early as 2000 BC. It was a prized and costly spice that only the wealthy could afford. It was one of the spices used in the mummification process in ancient Egypt. The Pharaohs could afford the bill. Cinnamon was in use but its source was something of a mystery. No one but the spice traders knew exactly where the cinnamon came from and they were not about to tell. The early cinnamon shipments all came from Ceylon (present day Sri Lanka). It still grows there in abundance. An estimated 90% of the world's cinnamon comes from Sri Lanka each year.
Back in those early days, ALL the cinnamon was coming from Ceylon. The cinnamon farmers transported their crops on rafts to East Africa where they sold it to spice traders. The spice traders carried it through the Mediterranean and Europe where those who could afford cinnamon prized it for cooking and medicinal value.
Spice traders controlled the market until early explorers discovered where the cinnamon was coming from. The cinnamon growers of Ceylon now had one nation after another attempting to move in and control the trade. It began with the Portuguese, then the Dutch until the English took the island in the late seventeen hundreds.
In all that competition there were conflicts known as "The Cinnamon Wars". Cinnamon powder may be the only spice ever to engender a war.
With the price becoming affordable, it gradually became a spice those most could afford. As such, cinnamon found its way into almost every cuisine around the globe. Cinnamon is as native to a savory meat stew in Morocco as it is to the cooling rice-milk drink, horchata, found in Mexico. Cinnamon is as necessary to the chai tea of India as it is to the apple pie of the Pennsylvania Dutch.
Benefits of Cinnamon
Over the centuries, cinnamon has been used to preserve meat. It is probably the antimicrobial action of cinnamon that kept the meat from becoming deadly. In the late nineteenth century the antimicrobial nature of cinnamon, cloves and mustard was scientifically established. This explains the centuries of using cinnamon tea for colds and stomach problems, the use of a cinnamon wash for wounds and skin problems.
Currently the buzz is about the use of cinnamon to control type A diabetes. Experiments have been carried out by the U.S. Department of Agriculture where they found it to assist in the secretion and regulation of insulin.
Another present-day claim for cinnamon is that it boosts metabolism. If you are a cook you will appreciate the findings that cinnamon powder, turmeric, garlic, rosemary, paprika, garlic, and oregano combine efforts to help you better digest a heavy carb meal. This is a can-do if you know your way around the kitchen and have a few good Italian and Indian recipes to fall back on.
Mineral-Rich Cinnamon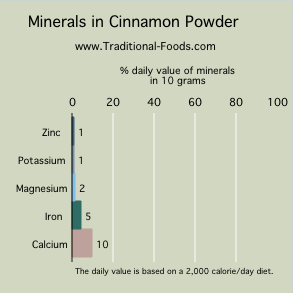 Cinnamon powder is a mineral-rich seasoning. Based on data collected by the USDA, ten grams of cinnamon powder (about 1 1/2 tablespoons) contains 10% of the daily value of calcium and 5% of iron. Note in the table below that it is also high in manganese. Not many people will eat 1 1/2 tablespoons of cinnamon, but it nonetheless can chip away at a mineral deficiency and add good minerals and antioxidants to your diet.
Antioxidants in Cinnamon
Cinnamon powder is a known antioxidant food. The United States Department of Agriculture published a database in 2010 (here) on the antioxidant content of foods, specifically their "Oxygen Radical Absorbance Capacity" values ("ORAC" values). This is one indicator of the ability of cinnamon powder to fight free radical cells before they become tumor-causing. The ORAC value is one of the most common indicators of a food's antioxidant activity. The ORAC value of cinnamon powder is among the highest at 131,320.
Buy Cinnamon Powder or Cinnamon Sticks?
With most spices, we prefer to buy the whole seed, pod, or stick and grind it fresh (or keep a small fresh-ground stash for easy use). This would be ideal with cinnamon sticks as well: grind up the cinnamon sticks into cinnamon powder as you need them.
However, the problem with cinnamon sticks is that they are much harder to grind in common home kitchen devices. A basic mortar and pestle is not strong enough, nor is a coffee mill. There are increasingly more powerful blenders and food processors available for home kitchens and so your mileage may vary, but we tend to buy cinnamon powder, enough for six months to one year. If you keep it much longer than that, you will not have the flavor you would hope for.
One problem with buying powders is that they have already been sitting around at the vendor's for a while. Buy from a reputable shop that has a high turn over. We like this option for herbs and spices.
Improving the Shelf Life
While it is ideal to consume your cinnamon within a year, you can take measures to ensure that it is fresh even as that year comes to an end. Store your cinnamon powder in an air-tight container and in a cool spot. Find a cupboard or part of your pantry that does not get overly hot. Keep a small stash of cinnamon in a more convenient spot for daily use.
If you do keep your cinnamon for longer than a year, consider freezing it in an air tight container to maintain the freshness.
Cinnamon Powder Nutrient Profile
Based on data collected by the USDA, the following tables display the nutritional content of 10 grams of cinnamon powder — about 1 1/2 tablespoons.
Macronutrients
Component

Amount

% Daily Value*

Calories

25

Protein

.4 g

.8%

Fat

.12 g

.2%

Carbohydrate

8.1 g

2.7%

Fiber

5.3 g

21.2%

Potassium

43 mg

1.2%

Sodium

1 mg

0%

Sugar

.2 g

Water

1.1 g

Ash

.4
*The daily value is based on a 2,000 calorie per day diet.
Vitamins
| | | |
| --- | --- | --- |
| Vitamin | Amount | % Daily Value* |
| Vitamin C | .4 mg | .6% |
| Thiamin – B1 | .002 mg | .1% |
| Riboflavin – B2 | .004 mg | .2% |
| Niacin – B3 | .13 mg | .7% |
| Pantothenic Acid – B5 | .04 mg | .4% |
| Vitamin B6 | .20 mg | .8% |
| Folic Acid | 0 mcg | |
| Food Folate | .6 mcg | |
| Choline | 1 mg | |
| Vitamin B12 | 0 mcg | 0% |
| Vitamin A – IU | 30 IU | .6% |
| Vitamin A – RAE | 1.5 RAE | |
| Retinol | 0 RE | |
| Alpha Carotene | .1 RE | |
| Beta Carotene | 11 mcg | |
| Beta Cryptoxanthin | 13 mg | |
| Vitamin E | .23 mg | .8% |
| Vitamin D – IU | 0 IU | 0% |
| Vitamin D – mcg | 0 mg | |
| Vitamin K | 3.1 mcg | 4% |
| Lycopene | 1.5 mcg | |
| Lutein and Zeaxanthin | 22 mcg | |
*The daily value is based on a 2,000 calorie per day diet.
Minerals
| | | |
| --- | --- | --- |
| Mineral | Amount | % Daily Value* |
| Calcium | 100 mg | 10% |
| Iron | .8 mg | 5% |
| Magnesium | 6 mg | 1.5% |
| Phosphorus | .6 mg | .6% |
| Zinc | .18 mg | 1.2% |
| Copper | .03 mg | 1.7% |
| Manganese | 1.7 mg | 87% |
| Selenium | .3 mg | .4% |
*The daily value is based on a 2,000 calorie per day diet.
Find author +Amanda Rose on Google Plus and enjoy your cinnamon powder!
Related posts:
You might also enjoy: