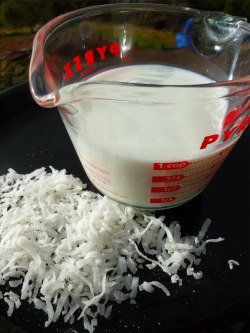 Coconut milk is an increasingly popular ingredient in soups, sauces, baking, and smoothies in the west as people explore flavor-rich recipes from Asian cuisines or look for a non-dairy beverage alternative. Coconut milk should not be confused with the also popular coconut water — coconut water is the liquid in the center of a coconut that drains out when you open a fresh coconut. Coconut milk is the fluid portion of the coconut meat itself and is a great ingredient to have on hand for your cooking.
Coconut milk has some coconut oil giving it a richness and slightly sweet coconut flavor. If left to stand in a refrigerator (or in a can), the cream will rise to the top creating a "coconut cream" used in recipes when a richer ingredient with less fluid is required. You can skim coconut cream off of your milk yourself in the same way you would cream off a dairy-based milk.
In Cooking
In our household, we use coconut milk primarily in soups and sauces, such as variants of the Thai Tom Ka Gai soup or classic curry panang dishes. The coconut compliments curry seasonings well, giving the dishes the perfect "sweet-hot" flavor combination. In soups, the advantage of coconut milk over a dairy-based milk is that it will not curdle and the flavor may compliment your spices better than a dairy-based milk depending on your project. Many Americans will also use it as the base of a "smoothie" beverage. Here are some good recipe ideas if you are experimenting:
Where to Buy Coconut Milk
In the west where coconut is not available locally, most consumers buy canned coconut milk or coconut cream. You can find canned versions in health food stores or Asian groceries, but we find that the quality varies greatly. Some products have a very low oil content and provide little flavor and richness to your cooking. When shopping in a local store, one strategy you can use to determine its quality is to look at the calories per serving. Compare the calories in eight ounces for two different products and choose the product with more calories. A watery coconut milk will be lower in calories per serving. The calories can at least give you a starting point for taste tests in your kitchen.
A problem with canned coconut milk is the same as all other canned food — it is canned. The food will get a slight taste from the can and it will also have chemicals such as BPA (unless it is a BPA-free can and I have not seen a reliable BPA-free canned coconut milk, post here if you know of one). There is the option of making coconut milk from dehydrated coconut flakes — a homemade option for those without coconuts in their backyard.
How to Make Coconut Milk
Without fresh coconut in your area, your option for making homemade coconut milk is to use dried coconut and extract the fats and other nutrients from it for your milk. If you are using this method, do not buy the shredded coconut from your local grocery store where it is likely to be an overly-sweet confection rather than a tool for making coconut milk. Buy a good quality shredded coconut — this is the product we use and can recommend highly.
The most common method for making coconut milk is to pour hot water over your shredded coconut (about as much water as coconut) and allow it to sit. It can sit for an hour or two (or you can make it right away — there is no "right" and "wrong." Put the mixture in a blender. If it is too thick to blend, add more water. Pour the blended mixture into a strainer and press the liquid through the strainer, leaving the coconut pulp behind. Place the coconut back into the blender with more hot water and repeat the process. I typically repeat the process three times. With each press you will get less flavor and oil.
If you do not have a strainer, you can line a colander with cheesecloth, pour the coconut mixture onto the cheesecloth, pull up the corners of the cheesecloth, and squeeze out the liquid. In the video at right, I use a gadget handy for straining vegetables which we use for making tomato sauce in the summer. This gadget works really well for making it.
As an alternative to straining your milk, you can embrace the pulp and keep it all in the mix as Adrienne Urban does at Whole New Mom. She uses a heavy-duty blender, blends the water and coconut, and calls that mixture "coconut milk." (Read Adrienne's quick coconut milk technique.)
If you have access to fresh coconuts and you have the time, by all means make your milk from fresh coconuts. Use the same process, but use the fresh coconut meat combined with the coconut water. Blend them together with a high-speed blender and strain out the pulp.
Nutrition
Not only will coconut milk add a nice flavor and richness to your soups and sauces, but it will add some B vitamins and minerals as well. The data below come from the USDA nutrient database and is based on 100 grams of coconut milk. Grams is a measure of weight. To put 100 grams in perspective, consider that 1 cup of coconut milk equals 240 grams. 100 grams of coconut milk is just under 1/2 cup.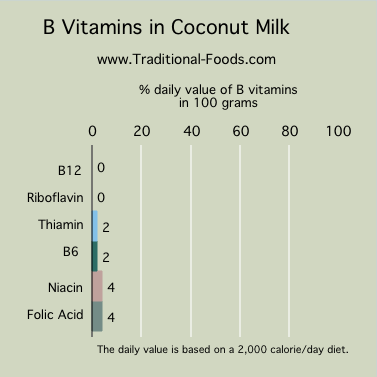 ~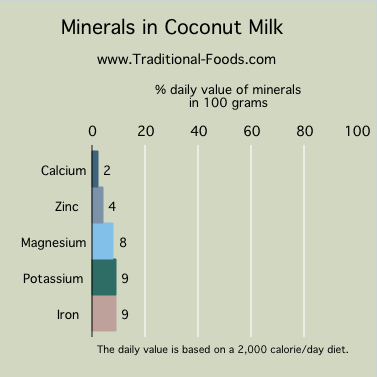 Macronutrients
Component

Amount

% Daily Value*

Calories

230

Protein

2.29 g

5%

Fat

23.84 g

37%

Carbohydrate

5.54 g

2%

Fiber

2.2 g

9%

Potassium

263 mg

8%

Sodium

15 mg

1%

Sugar

3.34 g

Water

67.62 g

Ash

.72
*The daily value is based on a 2,000 calorie per day diet.
Vitamins
| | | |
| --- | --- | --- |
| Vitamin | Amount | % Daily Value* |
| Vitamin C | 2.8 mg | 5% |
| Thiamin – B1 | .03 mg | 2% |
| Riboflavin – B2 | 0 mg | 0% |
| Niacin – B3 | .76 mg | 4% |
| Pantothenic Acid – B5 | .18 mg | 2% |
| Vitamin B6 | .03 mg | 2% |
| Folic Acid | 0 mcg | |
| Food Folate | 16 mcg | |
| Choline | 8.5 mg | |
| Vitamin B12 | 0 mcg | 0% |
| Vitamin A – IU | 0 IU | 0% |
| Vitamin A – RAE | 0 RAE | |
| Retinol | 0 RE | |
| Alpha Carotene | 0 RE | |
| Beta Carotene | 0 mcg | |
| Beta Cryptoxanthin | 0 mg | |
| Vitamin E | .15 mg | 1% |
| Vitamin D – IU | 0 IU | 0% |
| Vitamin D – mcg | 0 mg | |
| Vitamin K | .1 mcg | 0% |
| Lycopene | 0 mcg | |
| Lutein and Zeaxanthin | 0 mcg | |
*The daily value is based on a 2,000 calorie per day diet.
Minerals
| | | |
| --- | --- | --- |
| Mineral | Amount | % Daily Value* |
| Calcium | 16 mg | 2% |
| Iron | 1.64 mg | 9% |
| Magnesium | 37 mg | 9% |
| Phosphorus | 100 mg | 10% |
| Zinc | .67 mg | 4% |
| Copper | .27 mg | 13% |
| Manganese | .92 mg | 46% |
| Selenium | 6.2 mg | 9% |
*The daily value is based on a 2,000 calorie per day diet.
Related posts:
You might also enjoy: