–>Best price on cumin seed at Amazon here<--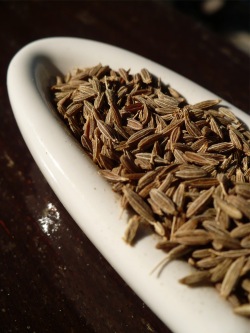 Cumin seed is a flavorful and mineral-rich spice used commonly in Mexican and Indian cuisines. The whole seed is often used in Indian curries and rice dishes. Ground cumin is common in Mexican sauces and even in the more common chili beans. In all of these cases, the cumin is what lends the dish its distinctive flavor.
Cumin is used world-wide in ethnic cuisines probably had its beginning in the fields of Egypt. It has been found in Egyptian tombs dating back as far as 4000 BC. Besides being used in cooking, it was used in the Egyptian mummification process.
Use of cumin as part of the cuisine spread to Greece where it was hailed as a digestive aid and a cure for flatulence. It was the custom to place a bowl of cumin seed on the table of every meal. Diners would help themselves to pinches of the seed as they felt inclined.
It was held in such high esteem that it had high trade value. Having a stash of cumin was like having a stash of money.
Over the centuries cumin seed traveled into Europe where it remained a primary spice in cooking for hundreds of years. In some areas of Europe anise seed was considered a remedy for unfaithfulness. Thus, chickens ended up with it in their feed to keep them from wandering from home. A wife would feed extra cumin to her husband for the same reason. A bride and groom carried cumin in their wedding ceremony as a symbol of faithfulness. Somehow that use of cumin faded. There is no documentation as to why. Perhaps it it didn't work!
Recipe Ideas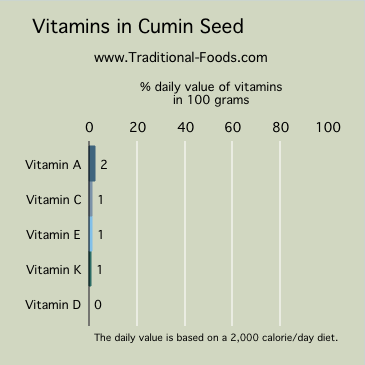 For some great uses of cumin seed, not all traditional but indeed tasty, check out these recipes from Nourished Living Network blogs:
Where to Buy Cumin Seed, Including Bulk
You can buy cumin seed in small jars at any grocery store, but it will be quite expensive. A better bet is shopping at an Indian or Mexican market and buying cumin seed from a bulk bin. If you do not have access to reasonably-priced cumin seed locally, shopping on the Internet is a great option. In fact, plan your shopping and buy all of the spices you typically use in about a year and buy them in bulk online. We like this vendor for buying cumin and other herbs and spices.
Ground Cumin Seed: Grind Fresh?
Most cooks keep a jar of ground cumin in their pantry to use in their taco seasonings and curries. However, more than likely these spices have been in that jar for months before you purchased it and if you do not use it within six months of so, the flavor will be flat.
For a bright cumin flavor every time, we recommend fresh grinding your seeds into cumin powder. You can use the traditional mortar and pestle or get an inexpensive coffee grinder and dedicate it to grinding your spices. Consider grinding extra and keeping a one-ounce jar of seed in your cupboard for the next cooking campaign. You will be amazed at the flavor of your food.
Growing Your Own Cumin
Cumin is believed to originate in Egypt. Even though this annual plant can grow as far north as Scandinavia, there is no guarantee of enough warm days to produce the fruit, or seed of the cumin plant. The closer your own growing environment reflects that of the Mediterranean, the greater your chances of getting a good crop.
Take a season for a trial run of cumin before doing any big-scale planting. Start with a pack of seed from a reputable dealer. Organic seed is always a good beginning for an organic garden.
Early in the spring start your seeds in a cold frame situation with weed-free potting mix. The seeds take a few weeks to germinate and could be overtaken by weeds in the garden before you even discover their delicate little leaves. Keep the plants in this green-house type protection until they are about four inches high. By then you can pop them into a garden spot and they will be able to hold their own.
Cumin has the same growing habit as parsley, dill, anise and fennel. At some point in the season the cumin plant puts up tall stems topped by flat-headed flowers. The flower petals dry and drop as the seeds form. When the seed heads are mature, the seeds are dark brown and dry. This is the time for harvest.
Harvesting Cumin Seed
A couple of days before harvesting the dried seed heads, spray with water to wash off accumulated dust. Cut off the dry seed heads in the morning after the dew is gone. You can cut just the seed head and lay them out on a flat surface to dry or you can cut them with long stems to bundle and hang. Whichever way you go, dry the cumin seed in as clean and dark a spot as you can find that also has good air circulation.
Depending on the air temperatures, two weeks will probably be adequate for further drying of your cumin. The seeds will easily fall from the flower head when they are completely dry. Frizzle the cumin seed from its flower head home into a clean container. Pick through the container of seeds to remove any stem pieces that decided to join the seed.
If this crop worked out for you, save some of this seed for next year's planting. Over time the cumin will adjust to your climate and soil conditions, giving you a really unique crop of your own.
Antioxidants in Cumin Seed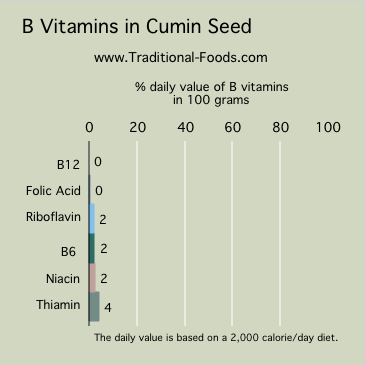 The antioxidant property of cumin seed and other spices has consumers increasingly interesting in more culinary uses for this great flavor. It indeed contains cancer-fighting, free radical scavenging antioxidants.
The USDA has cataloged the antioxidant capacity of foods in its ORAC database ("Oxygen Radical Absorbance Capacity"). Some spices were particularly high: the ORAC value for ground cinnamon is 131,420 and for whole cloves is 290,283. These are exceptionally high values. The ORAC value for cumin seed is reported as 50,372, while curry powder is reported as 48,504. These spices common in Indian cuisine suggest we should add some more curries to our diet.
Minerals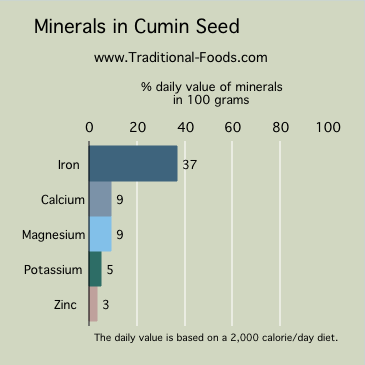 Cumin seed is has a solid mineral content. The mineral content of cumin is high but consider that you only use small amounts of it in flavoring your dishes. The graphs on this website that describe the nutrient content of food (based on the USDA nutrient database) describe the nutrients in 10 grams of any food. One tablespoon of cumin seed is 6 grams, as a point of comparison. These spices can provide small additional quantities of minerals to your diet.
Likewise, cumin has small amounts of vitamins A, C, E, and K. It also contains some of the B vitamins.
Macronutrients
Component

Amount

% Daily Value*

Calories

375

Protein

17.81 g

36%

Fat

22.27 g

34%

Carbohydrate

44.24 g

15%

Fiber

10.5 g

42%

Potassium

1788 mg

51%

Sodium

168 mg

7%

Sugar

2.25 g

Water

8.06 g

Ash

7.62
*The daily value is based on a 2,000 calorie per day diet.
Vitamins
| | | |
| --- | --- | --- |
| Vitamin | Amount | % Daily Value* |
| Vitamin C | 7.7 mg | 13% |
| Thiamin – B1 | .63 mg | 42% |
| Riboflavin – B2 | .33 mg | 19% |
| Niacin – B3 | 4.58 mg | 23% |
| Pantothenic Acid – B5 | . mg | .% |
| Vitamin B6 | .44 mg | 22% |
| Folic Acid | 0 mcg | |
| Food Folate | 10 mcg | |
| Choline | 24.7 mg | |
| Vitamin B12 | 0 mcg | 0% |
| Vitamin A – IU | 1270 IU | 25% |
| Vitamin A – RAE | 64 RAE | |
| Retinol | 0 RE | |
| Alpha Carotene | 0 RE | |
| Beta Carotene | 762 mcg | |
| Beta Cryptoxanthin | 0 mg | |
| Vitamin E | 3.33 mg | 11% |
| Vitamin D – IU | 0 IU | 0% |
| Vitamin D – mcg | 0 mg | |
| Vitamin K | 5.4 mcg | 7% |
| Lycopene | 0 mcg | |
| Lutein and Zeaxanthin | 448 mcg | |
*The daily value is based on a 2,000 calorie per day diet.
Minerals
| | | |
| --- | --- | --- |
| Mineral | Amount | % Daily Value* |
| Calcium | 931 mg | 93% |
| Iron | 66.36 mg | 369% |
| Magnesium | 366 mg | 92% |
| Phosphorus | 499 mg | 50% |
| Zinc | 4.8 mg | 32% |
| Copper | .87 mg | 43% |
| Manganese | 3.33 mg | 167% |
| Selenium | 5.2 mg | 7% |
*The daily value is based on a 2,000 calorie per day diet.
Find author +Amanda Rose on Google Plus and enjoy your cumin seed!
Related posts:
You might also enjoy: