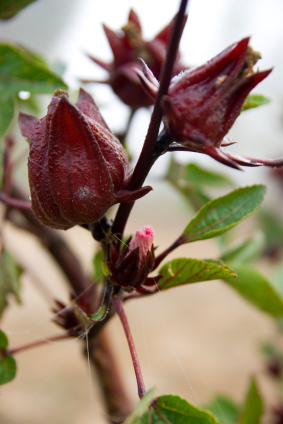 Hibiscus flower has long been popular in Mexico because of the tartly flavored, jewel toned tea that it makes (known as "jamaica" in Mexico). This is the same tea held to be the Pharaoh's favorite in days gone by and is the traditional drink for toasting the bride and groom in some North African countries. We have loved it for the flavor and have enjoyed it for years in our household, but the new promising research on hibiscus has our attention and makes us think we need to enjoy it much more regularly.
Several hundred varieties of hibiscus grow in the United States, from annuals that reach eighteen inches to scrubby trees that reach to twelve feet. When hibiscus is mentioned you probably picture those jewel-toned beauties that greet you at airports in tropical and sub-tropical locations. These are the hibiscus that cause the photographer to grab the camera and send the artist diving for his paints. It is the red ones among these beauties that are dried for tea.
Hibiscus Leaf: Medical Claims and Internal Uses
For internal uses hibiscus leaf has a long list of medicinal qualities recognized by herbal practitioners of centuries. These qualities include antiseptic, aphrodisiac, astringent, cholagogue, demulcent, digestive, diuretic, emollient, purgative, refrigerant, resolvent, sedative, stomachic, and tonic. There is not much left out. Hibiscus flower has itself high on the list of desired herbs for medicinal purposes.
A recent study showed three cups of hibiscus flower tea consumed daily for six weeks lowered blood pressure in Type 2 diabetes. It may help lower cholesterol as well, according to another study. Given that there are no side effects to hibiscus flower and the cost of hibiscus flower is quite reasonable, there is no reason not to give this idea a try.
As an herbal tea, hibiscus has been used as a diuretic and as a mild laxative. It is also commonly used to treat colds and coughs, problems with the respiratory system. Hibiscus flower tea has been used in treating hangover, heart ailments and even neurosis.
Obviously, many of these uses of hibiscus need some scientific study, but it is interesting the the herb has endured as a cure of many uses.
Hibiscus: External Uses
Hibiscus is known to contain I-hydroxy-acids which make hibiscus a welcome ingredient in lotions and potions for keeping the skin soft and flexible with plenty of moisture.
Use of hibiscus is found around the world where skin rejuvenation is needed. Some folk medicines have used a wash made from hibiscus flowers to treat weeping psoriasis. The anti-inflammatory and astringent properties of hibiscus probably played a role in the effectiveness of this wash.
A 2002 study of an extract of hibiscus showed stronger antioxidant activity than BHA and b-carotene. These findings could indicate more of a role of hibiscus flower in skin care products in the future.
Where to Buy Hibiscus Flowers (Including Bulk)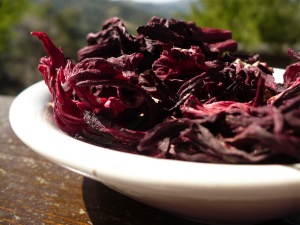 If you are shopping for hibiscus flowers locally, you can generally find them at health food stores that carry herbs in bulk bins. A Mexican market will carry it as a stock item.
Hibiscus Leaf Tea: How to Make It
Hibiscus tea looks like anything but a medicinal with its brilliant red color and cranberry-like taste. For those uninitiated into the hibiscus flower world of tea, this is an artist's delight.
Place your dried hibiscus flowers in a teapot and cover with boiling water. Allow the tea to brew for ten minutes or more. You may also use your hibiscus flowers to make sun tea. Since most hibiscus flower tea is served cold anyway, this method makes sense. Whether you go for the teapot or the sun tea, you will want to strain your tea before drinking it. The hibiscus flowers are edible but they are woody in their dried form.
Most folks sweeten hibiscus tea because of its natural sourness related to a high amount of vitamin c. Use a sweetener of your choice. They are all compatible with hibiscus flower.
Fermented Hibiscus Tea
You can take your hibiscus tea up a notch and ferment it to reap the benefits of the hibiscus flowers themselves as well as from the probiotic value of natural fermentation.
We use a fermentation method with water kefir grains, using the two-step fermentation method in the post "How to Make Water Kefir." Simply add the dried hibiscus flowers to the second stage, give them a stir into the fermenting sugar water, and allow the mixture to sit for two or more days until it reaches a sweetness level you desire. It will decrease in sugar each day.
We have had great success in getting our children to drink this fermented treat. It tastes like a high-quality fruit punch. It is wonderfully refreshing and hydrating.
Drying Your Own Hibiscus
If you are fortunate enough to live in one of the sunny warm locales where scarlet hibiscus thrives, you may consider drying your own hibiscus flower. You might even grow your own so you have complete control over its history. You can maintain a strict organic regimen in its growth and processing.
The drying process for hibiscus flower is simple. Remember it is the red flowers you want.
Clip the fully opened flowers in the morning after the dew has dried off. Morning is when the oils are high in the hibiscus flower and it is the oils that carry the compounds associated with medicinal uses. Clip enough of a stem with each flower to be able to gather them into small bundles for hanging. Tie each small bundle of hibiscus with a bit of string.
Hang the bundles in a clean location that is warm, dry, and as dark as possible. Strong light will fade them and cause a loss of volatile oils. You also want good air-flow for best results. Many people hang herbs to dry from a few hooks in the kitchen ceiling. However, air born oils from cooking can contaminate your hibiscus. Choose a spot like the attic or an unused bedroom where you can close the blinds and rig up some temporary hanging situation. Consider a clothesline strung from one bed post to another and then hanging the hibiscus flowers with clothespins. Be creative. There is always a solution to adequate hanging.
Every couple of days check the drying progress on your flowers. The petals will dry before the flower core. If you are short on time, harvest the dry petals now. Snap them from the flower core onto a cooky sheet or some sort of clean container. Spread out the petals and allow them to dry for another two or three days. Stir them up once a day to assist in even drying. The petals need be crispy dry before storing.
If you choose to dry the whole flowers, follow the same process as above. At some point you must remove the stem from the flower and discard it. Drying whole flowers takes several more days to dry but if you have the time and space it is a good option. A whole hibiscus flower lounging in the bottom of a hot or cold drink is very attractive and adds to the herbal experience.
Follow the instructions on storing hibiscus to maintain your precious bounty in peak condition.
Related posts:
You might also enjoy: