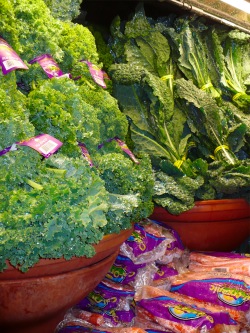 You have surely noticed that kale is the rising star of the vegetable world. Until about ten years ago kale was basically an ornamental vegetable due to its wonderful textures and colors. The leaves looked too formidable to tackle in the kitchen. These days kale is lauded as one of the ten healthiest foods to include in your diet. In Greens, Glorious Greens!, Johnna Albi and Catherine Walthers report that "one cup of kale contains more than 5 grams of fiber (more than a serving of bran cereal) but only 43 calories. That same cup provides the daily requirement for vitamins A and C, and 134 milligrams of calcium." No wonder the sales of kale are up.
Kale History
While kale may be new to many of us, kale is anything but new. It is a primitive plant, gathered and consumed by tribes before the dawn of recorded history. The Texas A&M Ag Extension suggests that kale originated in either the eastern Mediterranean or in Asia Minor. Supposition is that the seeds were carried by early traders and migrating tribes to other parts of the continent.
Wild kale was the beginning of cabbage as we know it. As kale came under cultivation, more highly developed forms came about such as cauliflower, brussel sprouts, broccoli. Some of our favorite winter vegetables trace their lineage back to the humble wild kale.
The kale we grow today is almost identical to the kale that tribes foraged thousands of years ago. The prime difference is that the leaves are bigger. The change in leaf size happened over a span of many seasons. Those cultivating kale saved leaves from the plant that had the largest leaves. Meet the seed for next year's crop! Repeat this process over hundreds of years, maybe longer, and you will end up with large-leafed kale.
Until the Middle Ages it was the prime vegetable on the table. Kale is frost-hardy and thus became a staple in Northern Europe and Britain. Many families had gardens they would protect with walls against the harshest of weather. The kale made it into the soup pot and into the animal feed bins. In Scotland soup and kale were synonymous terms because there was hardly a soup without it.
Kale was highly prized and liberally used until it was slowly eclipsed by the potato. It seems kale has come a full-circle. Potatoes are being put to the side more and more. and being replaced by a serving of kale.
A Pallet of Color and Texture
The most colorful is ornamental kale you can find in garden stores for fall planting. These are stunning but not terribly tasty. Dismiss the ornamental varieties when planting your own vegetable garden.
However, even the less colorful are varied and interesting. The colors range from deep green to blue green to grey green, many having reddish stems. The leaves vary from smooth and arrow-shaped to jagged and paddle-shaped. Some of the kale have a savoyed (crinkled) surface. Others are smooth with a satin finish. Check out this quick post from a master gardener for more information on varieties.
Recipe Ideas
Small young leaves of kale are a splendid addition to a salad. This indulgence probably belongs only to those who raise it in the garden. As the leaves mature they are best enjoyed cooked.
The flavor of kale is stronger than spinach and charge but milder than mustard greens. The sharpness of the kale flavor is considerably diminished by boiling it (just the leafy part, not the stems) for a few minutes in a good amount of water. Remove the kale to a colander with a slotted spoon and then process in whatever way you intend: stir fry, chop for soup, cream. The color stays vibrant green, a stunning addition to the dinner plate.
This method of handling kale is recommended in the cookbook Greens, Glorious Greens! I've been amazed at the results: bright green tender kale. Kale added to a soup after being processed this way was still nicely green a couple of days later when the soup was reheated.
Kale can be served as a stand-alone side dish, stir fried with garlic and olive oil, splashed with a bit of fresh lemon juice. It can be added to soups and stews or combine sauteed kale with raisins and pine nuts for a warm salad. Make kale Florentine and serve it with fish. Make kale chips to snack on and you will end up with kale in your grocery cart every time you shop.
Cooked Kale: Mature kale (the kind you find at the grocery) is usually best cooked. Stripped of its bitter stems, the green can be used in any soup, stew, or side dish where you would use Swiss chard or spinach. The mature kale has a bit of toughness to it like the two referenced greens and therefore need several moments of cooking.
In Salads: The best kale for a salad is the tender stuff growing in your garden. If you do not have a garden and must buy mature kale, strip the green from the stem and spine. The stem is bitter and does not make for good salad material. Slice the green leaves as thinly as possible before tossing into the salad bowl. Kale, by nature, is a tough vegetable. Thin slicing makes it seem almost crunchy. An illusion, but, ah well!
Commercial Kale Chips: A current rage in the healthy snacks arena is kale chips. These dehydrated chips may come with a simple salt or may be highly flavored. Because they are dehydrated, these kale chips qualify as a raw food. Between the raw food label and the dense nutrition, these snacks are flying off the shelves in health food stores – at a price, of course.
Homemade Kale Chips: Make your own kale chips at great savings. If you have your own garden, you can be certain of the quality of your produce. We love this option when we can pull it off. Baked kale chips are quick and easy. Bake only as much as you plan to eat in a sitting as these chips lose their crunch in a few hours. If you have a food dehydrator, dehydrating the chips is your best bet. Crispiness lasts longer and if the kale chips begin to sag, you can always run them through the dehydrator a second time. Here is a super video on flavored, dehydrated chips.
Juiced or in Smoothies: For the sweetest kale to add to a drink mix, choose kale that has been subjected to a frost. The frost brings up the sugar content. In most areas of the world, fall kale will be the most sweet. If you want kale before the fall season arrives then use tender young leaves. This assumes you have some under cultivation, of course.
For more kale recipes, check out 365 Days of Kale. This site is offered by a nutritionist who has survived cancer more than once. She is sold on it.
Choosing Kale In The Grocery Store
When shopping for kale, it should be brightly colored and sprightly as opposed to wilted. Avoid kale bunches that have a faded leaf or two. It was picked too late. Avoid bunches that have torn or bruised leaves. They are already decomposing. Sorry for the explicit word, but this is the truth.
Picking Kale In The Garden
If you are lucky enough to have kale in your garden, you can ensure a prolonged harvest by picking a leaf or two from each of your plants. The leaves need to be outside leaves, not the center leaves. The center of your plants will continue to produce through the whole season. Pick off any leaves that look bad and toss them into the compost. A rotting leaf can bring rot to the whole plant. Your sweetest kale comes after the first frost. When the tomatoes and the basil fall over in a frozen faint, your kale is reaching its prime.
Because the best produce is the freshest, do not pick it until you are ready to use it. Kale keeps far better in the garden than in your refrigerator.
Growing Kale In Your Garden
After you have developed a taste for kale and starting including it in your diet more than one or two times a week, you will want to start growing your own. Fortunately, this is easy. Kale will even grown in a large container if you have not garden space available.
As with all of its Brassica relatives, kale is a cool weather plant. The flavor is best in fall, winter, and spring. It lives through the summer season, but with a bitter flavor. Kale is a biennial that throws its flower stalk in the second season of growth. Before deciding which variety to plant, try as many as you can find at farmers' markets and grocery stores. Taste varies a bit between varieties of kale. Remember that the flavor will vary a bit depending on where and how it is grown.
Kale Nutrition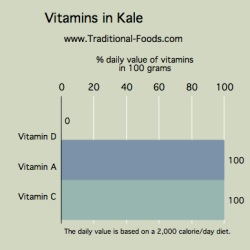 Kale is loaded with nutrition. As you can see, kale is a great source of vitamin C and beta carotene (vitamin A) and is a pretty good source of various B vitamins. Based on data collected by the USDA, it is loaded with minerals, including calcium. Kale does have some mineral inhibitors — if you are relying on it for calcium, it would be best to boil or steam it to reduce the level of oxalic acid that will reduce your absorption of calcium. It also has a host of trace minerals and will provide antioxidants to your diet. Our site does not include an antioxidant profile of kale, but you can check out the antioxidant properties of its green siblings on our antioxidants in vegetables page (and know that the Brassica family is known for its cancer-fighting compounds).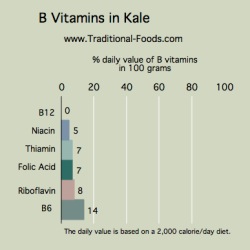 ~
Macronutrients
Component

Amount

% Daily Value*

Calories

50

Protein

3.3 g

7%

Fat

.7 g

1%

Carbohydrate

10.01 g

3%

Fiber

2 g

8%

Potassium

447 mg

13%

Sodium

43 mg

2%

Sugar

. g

Water

84.46 g

Ash

1.53
*The daily value is based on a 2,000 calorie per day diet.
Vitamins
| | | |
| --- | --- | --- |
| Vitamin | Amount | % Daily Value* |
| Vitamin C | 120 mg | 200% |
| Thiamin – B1 | .11 mg | 7% |
| Riboflavin – B2 | .13 mg | 8% |
| Niacin – B3 | 1 mg | 5% |
| Pantothenic Acid – B5 | .09 mg | 1% |
| Vitamin B6 | .27 mg | 14% |
| Folic Acid | 0 mcg | |
| Food Folate | 29 mcg | |
| Vitamin B12 | 0 mcg | 0% |
| Vitamin A – IU | 15376 IU | 308% |
| Vitamin A – RAE | 769 RAE | |
| Retinol | 0 RE | |
| Alpha Carotene | 0 RE | |
| Beta Carotene | 9226 mcg | |
| Beta Cryptoxanthin | 0 mg | |
| Vitamin D – IU | 0 IU | 0% |
| Vitamin D – mcg | 0 mg | |
| Vitamin K | 817 mcg | 1021% |
| Lycopene | 0 mcg | |
| Lutein and Zeaxanthin | 39550 mcg | |
*The daily value is based on a 2,000 calorie per day diet.
Minerals
| | | |
| --- | --- | --- |
| Mineral | Amount | % Daily Value* |
| Calcium | 135 mg | 14% |
| Iron | 1.7 mg | 9% |
| Magnesium | 34 mg | 9% |
| Phosphorus | 56 mg | 6% |
| Zinc | .44 mg | 3% |
| Copper | .29 mg | 14% |
| Manganese | .77 mg | 39% |
| Selenium | .9 mg | 1% |
*The daily value is based on a 2,000 calorie per day diet.
Related posts:
You might also enjoy: