As we work through the free video course on broth and soup-making on Facebook (simply "like" the Traditional Foods page for access to the course), marrow bones make a no-fail great-tasting soup. Indeed, we used rich bison marrow bones and made batch after batch of soup goodness.
However, the great flavor of marrow bones can actually be savored by eating the marrow itself. Bones are easily roasted or grilled and then you simply eat the marrow out of the bone, best with the aid of a small cocktail fork or chopstick. Roasting bones could not be more simple: brown your bones for 20-30 minutes at about 350 degrees. When the bones are roasted, let them cool and then scoop out the marrow. Check out this recipe offsite for grilling instructions and this roasted recipe an Anthony Bordain favorite. Whichever way you cook the marrow bones, add the left-over bones to your stock pot for a great bone broth soup.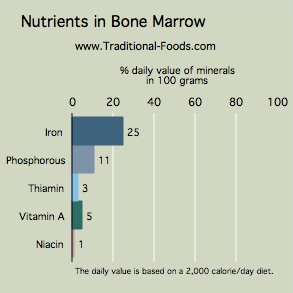 The richness of marrow, savored on a great bread or just by itself, comes from the fat content of the marrow. There is not a lot of information about the nutrient profile of marrow, but in a recent update of the USDA nutrient database, the USDA added some nutrients from caribou marrow to its database to give us a sense of the nutrient content of marrow.
In 100 grams of marrow there are a whopping 84.4 grams of fat. Marrow is primarily fat which, of course, is why many of us love it so much.
However, there is a surprise for me in the nutrient profile of marrow: the iron content is quite high. For those working to improve their diet with iron rich foods, enjoying marrow separately from the bone could be a great solution. Marrow in a bone broth finds iron in the marrow competing with the high calcium content in the bones. In digestion, these two important minerals compete and calcium wins. While it is not clear what the calcium content of marrow is, it surely is not in the same class as the calcium content of bone. Marrow, then, could be a very tasty and decadent way to curb an iron deficiency.
Where To Buy Marrow Bones
If you are shopping for marrow bones, your best bet locally is a health food store or ethnic grocery. You will find the best bargains at an Asian or Mexican market.
If you are shopping online, we recommend the bison bones in the video above, and you can buy those marrow bones here. These bones do come with our highest recommendation. They are exquisite. Of course, the vendor knows the quality and prices them accordingly, but if you have the bucks, you must check them out. You will find a great selection of other bones through that same link. In the video at right, I discuss the quality of the shipping for these bones.
Macronutrients
Component

Amount

% Daily Value*

Calories

786

Protein

6.7 g

13%

Fat

84.4 g

130%

Carbohydrate

0 g

0%

Water

7.4 g

Ash

1.5
*The daily value is based on a 2,000 calorie per day diet.
Vitamins and Minerals
| | | |
| --- | --- | --- |
| Nutrient | Amount | % Daily Value* |
| Thiamin – B1 | .04 mg | 3% |
| Niacin – B3 | .2 mg | 1% |
| Vitamin A | 240 mg | 5% |
| Iron | 4.5 mg | 25% |
| Phosphorus | 107 mg | 11% |
*The daily value is based on a 2,000 calorie per day diet.
Marrow bones are rich, delectable, and even nutritious. Find author +Amanda Rose on Google Plus and enjoy your marrow bone creations!
Related posts:
You might also enjoy: