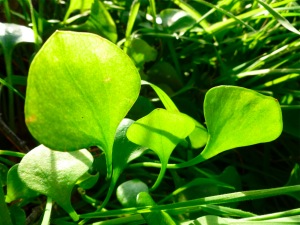 Miner's lettuce has become such a familiar green — it shows up at farmers markets and is landing in salads at posh restaurants. Miner's lettuce has even been referred to as the "iceberg lettuce" of wild greens. However, such familiarity should not dissuade you from using it liberally, discovering a myriad of ways to include it in your meal planning.
Miner's Lettuce History
Miner's lettuce is a native of North America. Of all the greens we so happily forage in the spring, it is the only one originating on this continent. The rest have been brought in, mostly from Europe. An early explorer observed the plant, collected seed and took his find to England. He named the new species "claytonia". By the time claytonia had become accepted as a food source it had almost established itself as a prolific weed all over England. The English are credited with taking claytonia (miner's lettuce) to Cuba and to Australia.
In North America claytonia was growing in large swaths wherever the cool air, adequate rain and rich soil would allow. Native Americans were enjoying it as a food source. However it was the gold miners of the 1850s who became responsible for this green's more common name these days — "miner's lettuce". Countless numbers of miners credited claytonia with saving them from the rickets, so rich is this green in vitamin C. Check out this enjoyable article on this green at The Atlantic.
Foraging
Miner's lettuce is still a happy and prolific "weed" in North America. Look for it on the cool spring days. Depending on the location and weather, it could sprout in the fall and be available in the winter. Look for it on the north sides of rocks, buildings, fences, anywhere there is shade and some moisture. The young leaves are a light, bright green and paddle-shaped. In an established area, it sprouts so densely that you seldom get to see the shape of a single plant. What you do experience is a sea of green.
As the plant matures it puts up a single flower stalk bearing a tiny white flower. The leaves, flowers, and stems are all edible. A unique characteristic of miner's lettuce is that it stays tender and sweet even after flowering. If you missed it early in the season, you are still in luck when the flowers arrive.
If you are foraging for miner's lettuce, keep these tips in mind:
Seek permission to enter private property.
Avoid areas that may receive polluted run-off or are near busy freeways.
Avoid areas that may have been treated with any chemicals.
Cut the stems of miner's lettuce with scissors rather than pulling the plants by the roots. This leaves the surrounding plants undisturbed.
Take only what you need. Never strip an area of any plant you are foraging. Leave plenty for making next year's seed.
Get it home as quickly at possible. It is quite delicate.
Check out the practical video above on identifying and foraging for miner's lettuce.
Growing It In Your Garden
Foraging is not possible for everyone. Until I lived in California I had never seen this green. Here I have it coming up in every shady nook and cranny on the property in springtime.
If it is not one of your dominant spring weeds, the good news is that you can plant it in your vegetable garden. Seeds are available from most large seed vendors. You will probably find it described as "Claytonia". Plant claytonia whenever you would plant spring or fall lettuce and handle it in the same fashion you would handle lettuce.
Remember that this green is tender and sweet from the first true leaves through the flowering stage. Do not hesitate to thin your plants as they grow to maturity. If the weather stays cool, you could get a nice long season on the miner's lettuce.
Here's an idea: Let some of the greens go to seed and you may be fortunate enough to have it become your newest flourishing weed. Best of luck on that one.
Buy Seed Online
While most big seed companies carry miner's lettuce seed, you are not likely to find it in your local garden store. If you buy seeds regularly from an Internet catalog, you can easily add miner's lettuce seeds, but if you are buying only those seeds, you will pay a bundle for shipping. For a fast and easy source of seed, check out this option on Amazon.
Cleaning Miner's Lettuce
Before using miner's lettuce in cooking, take care to make sure it is clean, as you would with any green. I recommend that you place it in a large bowl and fill the bowl with cool water. Swish the greens around. Dirt and debris may sink to the bottom of the bowl. If so, pour out the water with the dirt and sand and fill up the bowl again with fresh water. Once again, swish the greens around. Continue this process until there is no dirt in the bottom of your bowl. Use a salad spinner to dry the greens if you are using them in a salad.
Uses in Cooking
If you have access to a hillside of this green, don't hold back on fitting it into your diet in every conceivable way. It is that nutritious! Be inventive and fearless! Here are just a few suggestions to get you started:
Add it to a fruit smoothie.
Juice it along with carrots, apple, or your favorite veggies.
Use it in concert with other salad greens or play it as a solo. Dress it with a simple vinaigrette and top with a sprinkle of buttered bread crumbs.
Throw it into a stir-fry.
Add chopped miner's lettuce to soup or stew recipes just before serving. The miner's lettuce will be wilted and bright green — it will be lovely if you have something red or orange in the soup pot already.
Puree it in a creamed soup for sweet flavor and delicate shade of pale green. Check out our miner's lettuce soup recipe.
Use miner's lettuce in place of spinach in home-made spinach pasta as we did in our miner's lettuce pasta. You may actually prefer the flavor with it and the color is much more appealing.
Try a handful of minced miner's lettuce in any of your favorite homemade salad dressings. The color is bright, the flavor change is minimal, and the nutrient density just increased considerably. This is a great little trick for working more "green" into the family diet without inciting a revolution.
Experiment, experiment, and then experiment some more. You will have some dismal failures which you can feed to the chickens. The successes will make the failures worthwhile.
Related posts:
You might also enjoy: